EU working on new Mideast peace plan
British, French FMs preparing plan to restart talks between Israel, Palestinians to be presented in March. 'It will drive us into a corner,' say Israeli officials
Itamar Eichner
The European Union is working on a detailed plan meant to restart Israeli-Palestinian negotiations and establish an independent Palestinian state based on the 1967 borders with east Jerusalem as its capital, Yedioth Ahronoth quoted Israeli diplomatic sources as saying.

The plan will set a clear timetable for a discussion on all core issues over the course of 2013. It will likely be presented in March after a new Israeli government is formed.

Related stories:

According to the plan, Israel and the Palestinians will enter peace negotiations after a brief interval. The plan will likely also include a demand to freeze settlement construction.

The initiative is promoted by the British and French foreign ministers, and has the support of Germany.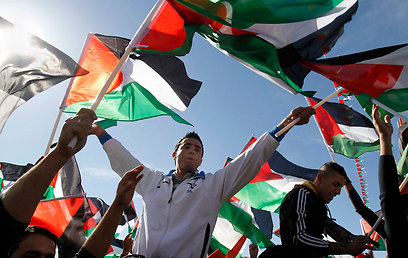 Palestinian celebration after UN status upgrade (Photo: AP)

Efforts are being made to internationalize the plan: The EU's High Representative for Foreign Affairs Catherine Ashton is examining the possibility of making the plan an all-European proposal.

Similar efforts have been made in a Quartet meeting in Amman, Jordan, where the EU's representatives have asked to discuss their proposed peace plan. However, the US requested to delay the discussion until after the Israeli elections and the Obama inauguration.

Several reports revealed that the plan will also include a basis for a regional Middle Eastern committee with the participation of Egypt, Jordan and the Gulf states.

Such a committee will marginalize Israel, but a refusal to join it will be perceived as a general rejection of the peace process. The Palestinians have already said they will accept the invitation if issued.

"There is great movement behind the scenes," a senior Israeli official said. "The Europeans can't force Israel to enter into an agreement, but they can certainly put us in an awkward position.

"They are drafting a document which will present the principles of the future peace accord, putting it on the table as a challenge. It is likely the Palestinians will accept it and that Israel will have some difficulty. It will drive us into the corner."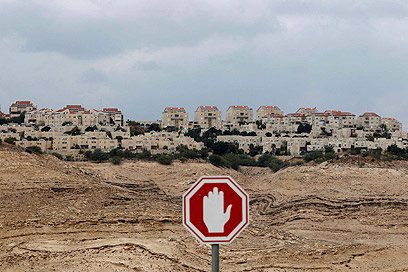 E1 area (Photo: Reuters)

Hatnua Chairwoman Tzipi Livni commented on the plan Friday and said: "In March the world will present us with a peace plan – either it will be forced upon us or we come up with our own plan.

"If we form an Israeli plan we could renew the alliance with the region's moderates and will be able to better deal with the extremist front. It is therefore important to have a government which promotes a real peace process."

Meanwhile the Palestinians are trying to initiate a special UN Security Council meeting on January 23, a day after the Israeli elections, to discuss settlement construction and particularly Israel's area E1 construction plan.

They demand that the discussion include foreign ministers so that Palestinian Foreign Minister Riyad al-Maliki will be able to attend it for the first time as a representative of the "State of Palestine."

Deputy Foreign Minister Danny Ayalon met with UN Secretary General Ban Ki-moon over the weekend and expressed Israel's objection to the discussion.

Yuval Karni contributed to this report
Receive Ynetnews updates directly to your desktop