Alex Kolomoisky, a photographer for Ynet and sister publication
Yedioth Ahronoth
was wounded on Monday after ultra-Orthodox extremists hurled stones at him during protests in Jerusalem against coronavirus restrictions.
Kolomoisky, a veteran lensman with 34 years of experience under his belt, was hit in the face by a rock while covering a protest in the capital's Mea Shearim neighborhood. He required two stitches, one above and one under his right eye.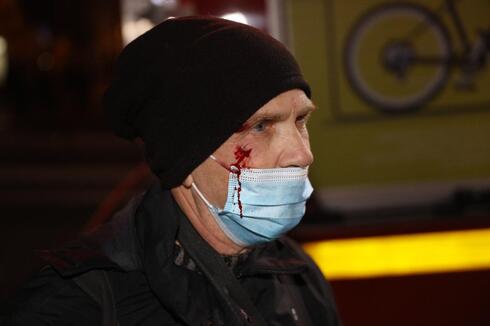 His fellow photographers provided him first aid before he was transferred to Shaare Zedek Medical Center in Jerusalem by Magen David Adom rescue personnel.
"Luckily, the rock did not hit me directly in the eye," he said after the attack. "This is the result of the ongoing incitement against the media."
Kolomoisky and other photographers covered a demonstration against plans to build a new light rail route passing through ultra-Orthodox neighborhoods when one of the protesters spotted them and shouted, "stone the photographers!"
Kolomoisky's car was also attacked in the ultra-Orthodox town of Beitar Illit two weeks ago when locals hurled stones at his car.
"It's nothing new to me that the ultra-Orthodox neighborhoods don't like the media, but it all depends on the timing," Kolomoisky said.
"There are times when the ultra-Orthodox need us, the media. For example, to show police violence against them, they call us and use our pictures. They perceive the media as a spreader of anti-Haredi news, such as the opening of educational institutions in violation of [coronavirus] guidelines, large weddings and other violations. Then we become their enemies."
This incident joins a host of recent attacks against members of the media in ultra-Orthodox population centers.
Since the outbreak of the coronavirus pandemic, the ultra-Orthodox population had received a significant proportion of the journalistic coverage in Israel, mainly due to the sector's high COVID-19 morbidity, health violations and constant clashes with law enforcement.
Journalists were also attacked in other parts of the capital and around the country, with violent incidents reported in Beit Shemesh, Bnei Brak, Beitar Illit and Modi'in Illit, all boasting a large Haredi population.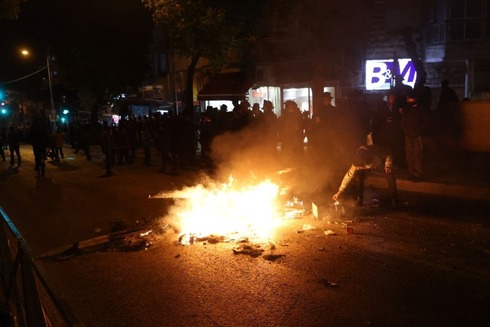 Last October, Army Radio reporter Shahar Glick was attacked in the Romema neighborhood by members of the Belz dynasty and a Ynet team was attacked in the Ezrat Torah neighborhood last week, both in Jerusalem.
Photographer Matti Stein was attacked in Mea Shearim on Friday and his tripod was stolen.
Jerusalem rioters sliced the tires of a Channel 13 vehicle on Sunday near Shabbat Square and a Fox News team was attacked on Monday in the Mea Shearim neighborhood.