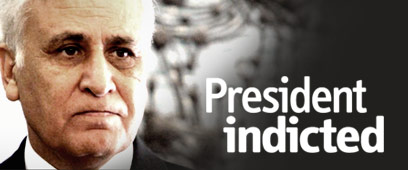 Dichter: Katsav should apologize
Photo: Yaron Brener

Beilin slams 'Katsav horror show'
Photo: Uri Porat
Police officials say Katsav is hysterical
President's frantic speech draws wave of angry, scornful responses. Internal security minister Dichter says, 'President should find first opportunity to apologize for his emotional frenzy.' MK Beilin: Katsav should resign 'to prevent further denigration of presidential institution'
Politicians and officials criticized President Moshe Katsav's frenzied speech Wednesday evening and snubbed the president's sweeping criticism of law enforcement authorities and state institutions.

Katsav angrily addressed the press proclaiming his innocence against rape allegations, following Attorney General Manachem Mazuz's decision to indict him.

Indictment Pending

Prime minister urges Katsav to leave President's Residence owing to rape allegations against him. Earlier, president proclaims his innocence, angrily slams media for leading 'brainwashing campaign' against his good name

Internal Security Minister Avi Dichter snubbed Katsav's accusations that Israel's police force cooperated with the media in a "smear campaign" against the president.

"President Katsav faulted 28,000 police officers who work day and night for State of Israel's security," Dichter said.

"If the president feels police interrogators acted in a way that was harmful to him during their inquiry, he is welcome to file a complaint with the Police Investigation Unit and it will be thoroughly investigated," he added.

The president should find the first opportunity "to apologize for the things he said in his emotional frenzy about people with feelings," Dichter added.



'I accuse!' President Katsav delivers speech (Photo: Reuters)

"The president is hysterical," police officials commented. "We would expect him to act respectably and formally. If he claims he's still president, what kind of behavior is this? We don't know of a single incident – not even one – in which the president complained about the team of investigators."

Meretz Chairman MK Yossi Beilin said Katsav had proven himself completely unfit to serve as president and called for his resignation post-haste.

"The president's horror show proved that he shouldn't serve another day, and should resign immediately," Beilin said. "His unbridled assault on the state's institutions and on the media demands decisive action and his speedy dismissal, to prevent the further denigration of the presidential institution."

MK Avshalom Vilan (Meretz) said that in his speech "the president was shooting in every direction; he targeted every governmental authority, and this is final proof that he can no longer hold his post."

MK Taleb El-Sana (United Arab List-Ta'al) said that Katsav made a grave error when he "fired haywire, without differentiation."

Even when he is in a difficult position, "He must remember that he is filling an official post and must behave respectably. The president missed his final chance to save his last shred of dignity in not using this opportunity to announce his resignation," El-Sana declared.

Efrat Weiss, Aviram Zino, Roee Nahmias, and Attila Somfalvi contributed to the report