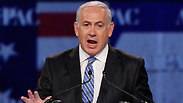 Netanyahu addresses AIPAC. 2011.
Photo: AP
An AIPAC social media promotion to drum up support for its annual policy conference backfired over the weekend as anti-Israel activists on Twitter hijacked the campaign to advance their own agenda.
The campaign allows users to upload a photo captioned "I am AIPAC" directly to the website and iPhone application for the 2014 conference, which started Sunday.
Show Support: March 2-4 change your Social Media profile to "Show Your Support" pic #AIPAC14 #ProIsrael #3DaysImpact pic.twitter.com/Up0izCaWqD

— AIPAC (@AIPAC) March 2, 2014
Related stories:
But by Sunday morning, pro-Palestinian activists on Twitter had flooded the campaign's #AIPACpride feed. In an attempt to play on the cognitive dissonance between words and pictures, some activists posted pictures of Israeli soldiers pointing their rifles at Palestinians captioned "I am a friend. I am AIPAC".
Do you think @AIPAC regrets their ill-advised campaign yet? "I am Pro-peace." #AIPAC14 #AIPACpride pic.twitter.com/bd1C12RNbb

— Joe Catron (@jncatron) March 1, 2014

Instead of the pictures of smiling American Jewish activists, the hashtag now has a stream of harsh images of settlers harassing Palestinians, the aftermath of IAF airstrikes, and Israeli parents teaching their children how to use firearms.
Hacker-collective Anonymous and Electronic Intifada founder Ali Abunimah joined the social media action, posting controversial anti-Israel images over-laced with the specially created hashtag. Even CODEPINK, the women's anti-war group which advocates a boycott of AIPAC and Israel, tweeted its support. (The activist group is currently demonstrating outside of the Policy Conference, asking Israel – without a hint of irony – to "return the Golan Heights to Syria.")
CODEPINK protesters outside #AIPAC14 call on Israel to "return the Golan Heights to Syria." Because that would definitely bring world peace.

— Yair Rosenberg (@Yair_Rosenberg) March 2, 2014
But despite the insistence of the posters that they oppose AIPAC out of pro-Palestinian sentiment, the tone and content of many of the tweets suggested they were more opposed to Israel than supportive of the Palestinian national movement.
#AIPACpride #AIPAC14 pic.twitter.com/agqeT3hApu"

— Anonymous Palestine (@PalAnonymous) March 2, 2014
And while many posts played on the link between AIPAC and the IDF, some efforts had anti-Semitic overtones. One posting showed New Jersey Senator Cory Booker with Rabbi Shmuley Boteach, labeling the rabbi an "opportunist" for cozying up to a political leader.
Another post featured a picture of major GOP donor Sheldon Adelson with the historically anti-Semitic charge of being "Israel first."
Both examples rely on tropes which are associated with classic anti-Semitic conspiracy theories of "dual sympathies" - letting one's Judaism and support for the Jewish state compromise loyalty to one's own country and of Jews controlling the corridors of power and world finances.