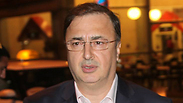 Lev Leviev
Photo: Motti Kimchi
Israelis Eyal and Idan Ofer, Shari Arison and Yitzhak Tshuva are among the richest people in the world according to Forbes magazine's 2014 list of billionaires published on Monday.
Several Jewish-American billionaires have reached respectable spots on the list. Oracle CEO Larry Ellion is the richest Jew in the world, placed 5th on the list with $48 billion, while casino tycoon and Israel Hayom owner Sheldon Adelson reached the 8th spot with $38 billion.
Former New York City mayor Michael Bloomberg, was 16th on the list with $33 billion, while Facebook founder Mark Zuckerberg was placed 21st on the list with $28 billion.
Compared to the Jewish-American billionaires, Israeli billionaires were trailing quite far behind.
Eighteen Israelis out of a total of 1,645 billionaires made the list this year, up from 17 last year.
The Ofer brothers, who make their wealth primarily in the shipping industry, claimed the 191st (Eyal) and 224th (Idan) spots with $7 billion and $5.7 billion respectively.
Shari Arison, whose company Arison Holdings controls Bank Hapoalim, and film producer Arnon Milchan share the 319th spot with a fortune of $4.7 billion each.
Beny Steinmetz, the heir to the Steinmetz Diamond Group, was ranked at 367th place with $4.1 billion, while Delek Group owner Yitzhak Tshuva was ranked 520 with $3.1 billion.
Dan Gertler, the founder and president of DGI, and Teddy Sagi, the founder of the gambling software group Playtech, were both ranked 687 on the list with $2.5 billion each.
Gil Shwed, founder and CEO of Check Point Software Technologies, is at 988 with $1.8 billion.
Businessman Alexander Machkevich, a major shareholder in Eurasian National Resources Corporation and one of the owners of Alferon Management, made the list at number 1,046 with $1.7 billion.
Shlomo Eliahu, who owns a large stake in Bank Leumi and 23 percent of the Union Bank of Israel, and Marius Nacht, a co-founder of Check Point Software Technologies, tied at 1,210 with $1.4 billion each.
Lev Leviev, who is a controlling shareholder and Chairman of Africa-Israel and the owner of several diamond mines in Russia and Africa, and Israeli investor Shaul Shani, the founder of Oshap technologies, share the 1,284th spot on the list with $1.3 billion each.
Mori Arkin, a shareholder in Bank Hapoalim and a stakeholder in pharmaceutical company Perrigo, reached the 1,372th spot with $1.2 billion.
Zadik Bino, a majority shares owner in Israeli oil company Paz, was placed on the 1,540th spot with $1.05 billion, while Morris Kahan, the original investor in Amdocs, made it to 1,565th spot with $1 billion.