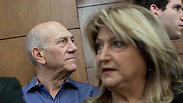 Estranged, Olmert and Zaken.
Photo: Tomer Applebaum
Former prime minister Ehud Olmert, who is under investigation for suspicions of obstruction of justice in the Holyland affair, is expected to be questioned over similar suspicions in the Talansky and Rishon Tours affairs as well, Ynet learned on Sunday.

Olmert was scheduled to be questioned Sunday about former aide Shula Zaken's claims that he tried to persuade her not to sign a state witness deal. However, the investigation was postponed.

When Olmert's questioning does finally take place in the coming days, he will be asked about the allegations that he tried to convince Zaken not to provide information that could implicate him in the Holyland affair. He will also be confronted with recordings of conversations between him and Zaken.

Related stories:

In addition to these allegations, Zaken told investigators that Olmert called her after she was investigated in 2008 in the "money envelopes" Talansky affair and in the Rishon Tours affair (in which Olmert was suspected of receiving double funding for flights and using frequent flier miles). Among other things, Zaken claimed, he spoke to her about what happened in the investigation.

According to sources familiar with the investigation, Zaken also provided documentation of that phone call, that was initiated by Olmert from the Prime Minister's Office, a documentation that she saved over the years. It is yet unclear whether this is another recording.

Olmert's media adviser Amir Dan said in response: "Unfortunately, we are once again witnessing a systematic circus of media leaking that has nothing to it other than the desire to harm and smear."

Zaken refused to testify during the trial that dealt with the Rishon Tours and Talanksy affairs. Investigators suspect the reason to that was Olmert's request that she does not testify.

Zaken's refusal to testify aided Olmert's acquittal from most of the charges against him, due to the lack of evidence showing he knew of the alleged illegal activities. The court is to rule soon on the state's appeal of the acquittal.

Zaken signed a plea bargain in the Holyland affair, agreeing to provide new information on her former boss, and in return receive a lighter sentence of only 11 months for the charges she was convicted of, among them bribe. Tel Aviv District Judge David Rosen has yet to approve the deal.