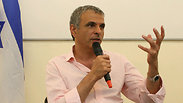 Moshe Kahlon
Photo: Yaron Brener
A recent Yedioth Ahronoth poll finds that in a new general election, Likud could lose up to nine Knesset seats, bringing it down from 31 to 22, while any political parties formed by former Likud minister Moshe Kahlon and Foreign Minister Avigdor Lieberman would both win a substantial 10 seats.

Yisrael Beiteinu ran in the last elections on a joint ticket with Likud, but party leader Lieberman has made comments suggesting that it may run independently in the next elections.

Kahlon left the Likud party in 2013 after a four-year stint as communications minister, and has hinted at an independent comeback in the next elections.

The poll comes after the Bayit Yehudi leader, Economy Minister Naftali Bennett, threatened to pull his party from the government over a further release of Palestinian prisoners as part of ongoing peace talks.

Bayit Yehudi would win 11 mandates (losing one seat), according to the poll, while the Labor Party would win 16 seats - a gain of one from the current Knesset.

Related stories:

Finance Minister Yair Lapid's Yesh Atid party, which came from nowhere to win 19 seats in the last elections, is also expected to lose nine seats. The poll also shows Meretz gaining four seats, bringing it Knesset members to 10. The Sephardi ultra-Orthodox Shas could lose eight seats from its current 11.

Arab parties were predicted to claim eight seats, up one from its current tally of seven. United Torah Judaism would remain at seven mandates.

Tzipi Livni's Hatnuah would drop two seats, putting it at four, and her former party Kadima now led by Shaul Mofaz could disappear from the political map entirely. Jewish-Arab party Hadash remained steady with four seats, the poll found.

The political field could change dramatically however if Lieberman and Prime Minister Benjamin Netanyahu were to run together again, with the poll predicting 29 seats for the joint ticket.

In this event, Bayit Yehudi would get 12 seats, Kahlon would get 11 and even Shas would win an additional spot, bringing its total to nine.

The survey is based on the responses of 500 Israelis, representing a diverse range of the adult population. The survey was conducted on April 9-10, and the sampling error is approximately 3.9%.