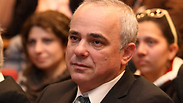 Strategic Affairs Minister Yuval Steinitz denied on Saturday a report in American weekly Newsweek that in 1999, Israel eavesdropped to conversations between then-US president Bill Clinton and then-Syrian president Hafez Assad.

Speaking at a cultural event in Beersheba, Steinitz stressed the report was unfounded. "We have made a strategic decision not to conduct such wiretapping," he said.

The Newsweek report is based on a forthcoming book written by an Israeli expat and political scientist Ahron Bregman, and sites verbatim transcripts of the allegedly tapped phone calls given to him by unnamed "private sources."

Related stories:

Steinitz also took the opportunity to harshly criticize the defense apparatus, accusing its top brass of a series of schemes meant to influence public opinion in order to pressure the government not to make cuts in the army's budget.

The military has taken what some call cynical steps to highlight what it claims is an unprecedented financial crisis, canceling military training and even a memorial service.

Steinitz asserted that even when there are budgetary issues, the army must not interfere with the decisions of the political echelon and attempt to manipulate these decisions.

"There is apparently a real crisis with the defense budget and the IDF needs to cut its expenses. On the other hand, there are ploys the Defense Ministry orchestrates that are unacceptable in a democratic country," Steinitz accused.

"Not everything is for PR purposes, there's a real crisis," he went on. "They've cut spending in one area that has an effect on public opinion, instead of another area that could save more money. They use these things to affect the budget and at times it strays from what is acceptable in a democratic country."

"We have to make sure the military echelon is not involved with debates that have a political aspect to them. Even if the military echelon doesn't like the decisions made, they can't try to manipulate them to have their way... We can't let our massive respect to the IDF lead to a situation in which the military clique allows itself too much."

Sources close to Defense Minister Moshe Ya'alon criticized Steinitz's comments, saying that "as far as we recall, Yuval Steinitz begged to be appointed defense minister. It is likely that had he been the defense minister, he would be saying the complete opposite."

"Anyone who has been made aware of the deep issues of the defense apparatus on the one hand, and of the comprehensive and unprecedented process of streamlining on the other hand, understands the seriousness of the problem, as well as the irresponsibility of attacking the IDF and those who serve in it," they continued.

The battle between the Defense and Finance ministries on the defense budget has been raging for a few months.

While Ya'alon claims the army is on the brink of economic collapse and cannot continue to function and train soldiers without an immediate NIS 2 million cash injection, Lapid and the Finance Ministry claim the army has mismanaged its funds and already received a large budget supplement.

"There has never been proper management of funds within the army, and every time they cry 'oy vavoy' and they get more money," Finance Minister Yair Lapid said earlier this week.

"I don't want to get pulled into a mud fight with Ya'alon and (IDF Chief) Benny Gantz, these are dedicated people…but the Cabinet has decided that there is no external threat which threatens us and that influences the budget," Lapid added. "The Defense Ministry cannot get all the money, they get a budget, sign off on it, and then three months later say they need more money."

Aviel Magnezi contributed to this report.