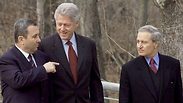 Clinton in Shepherdstown with Israeli PM Ehud Barak and Syrian FM Farouk al-Sharaa
Photo: Reuters
Unlike previous revelations about alleged Israeli spying on the United States, which were published by American news magazine Newsweek, there is likely some basis to the revelations published in Ahron Bergman's book about the negotiations between Israel and Syria.

It is common knowledge that decision makers around the world proceed on the assumption that different intelligence organizations are making the utmost effort to intercept their conversations on every known and unknown communication device. That's the reason why, for example, Israeli prime ministers who visit the US and want to hold a discreet consultation travel to the Israeli Embassy in Washington and convene in the "quiet room," which is secured against wiretapping.

Spy Games

Op-ed: Intelligence services have much better ways of collecting information than tapping phones or emails.

According to Kuwaiti newspaper al-Jarida, Israel makes a special effort to eavesdrop on heads of state in the Arab world, and the material produced by our intelligence and handed over to the prime ministers is strictly reviewed. It's safe to assume that our leaders take a special pleasure in the things they are exposed to, especially hate sermons which Arab leaders who are considered "brothers" shower on each other in private conversations.

It's possible that President Bill Clinton had also fallen victim to the Israeli effort to hear what Assad had to say about the talks with Israel.

Heads of states' effort to learn about their counterparts in every possible way does not just end with eavesdropping on their conversations. Ahead of US President Barack Obama's visit to Israel in late March 2013, the Central Intelligence Agency (CIA) prepared a classified document for the president which included a detailed character analysis of Prime Minister Benjamin Netanyahu and his wife Sara. The document, which was prepared with the help of medical and mental health experts, included detailed reports on the couple, including their medical and mental state. According to sources exposed to the document, Obama made a lot of use of it, for example when he made sure to compliment Mrs. Netanyahu on her good looks.

It's no secret that the Israeli side also monitors the key figures in the American administration. In the late 1980s, I read documents authored by then-diplomat Elyakim Rubinstein for Prime Minister Yitzhak Shamir about the American president at the time and his close advisors.

Rubinstein used his personal acquaintance and information he received about the officials Shamir was about to meet.

We live in a world in which all of us, and the leaders as well, are exposed, recorded and filmed constantly, and there is no point in complaining. That's the situation, and we must act accordingly.