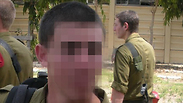 Captain Omri. 'I wasn't discouraged and moved on with my life'
Photo: IDF Spokesperson's Unit
Two years ago, 24-year-old Omri was a team commander in a paratroopers platoon, a promising officer and fighter in the IDF.

When he began experiencing trembling in his legs, which only got worse, he had a checkup and received the bad news that he had been diagnosed with Amyotrophic Lateral Sclerosis (ALS), an incurable disease.

ALS is a rare muscular dystrophy, which is detected among one of 10,000 people. There are an estimated 700 ALS sufferers in Israel. The patients' life expectancy is particularly low, between three to five years, and only 10% will be able to live with the disease for 10 years.

Rare Disorder

At mere age of 36, with two small children, Tali Amor discovered she is one of few patients in the world suffering from rare autoimmune disorder. 'I just wanted to know what I have already,' she says of worst year of her life.

Although his condition deteriorated gradually, Omri stayed in the army, moved to the Intelligence Corps and was promoted to captain.

Thanks to an innovative treatment, his disease stopped progressing. With the help of senior IDF officials, he received the experimental treatment for a second time, as well as a new infusion of hope.

"It was bad news, but I wasn't discouraged and I moved on with my life," Omri says, recalling the moment he learned about his disease. "I took an unpaid leave from the IDF and went on a six-month journey to South America. When I returned, I had the option of rotting in front of the television at home or doing something significant which would add interest to my life. I think the army is the best way."

Fifteen months ago, Omri joined a clinical trial conducted by the BrainStorm company at the Hadassah Medical Center in Jerusalem. He was treated by Prof. Dimitrios Karussis, director of the Multiple Sclerosis Center at Hadassah and chairman of the Israeli Neuroimmunological Society at the hospital, which is conducting the trial.

"My mother and I spent months looking for anything that would give me some kind of hope, and when I heard about the trial I realized that I must participate," he says.

"In the treatment we take adult stem cells from the patient's bone marrow," the professor explains. "We then use them to create a tissue culture in order to breed the stem cells in larger numbers, and then we use growth factors to make the stem cells more close resemble neurons.

"These cells are injected into the muscle or implanted through lumber puncture into the cerebrospinal fluid, which reaches the spinal cord and the brain. And so, the substance reaches the motor areas damaged by the disease, prevents the ongoing degeneration of the cells, and even encourages them to renew and rebuild. There was an excellent response, and no serious side effects were recorded."

The trial included a total of 24 patients, and 60% of them recorded a clinical response to the treatment. In other words, the deterioration in the chronic illness slowed down, was halted or in a small number of cases even showed a slight improvement.

After the first stage of the experiment, which examined its safety, the trial is now in its second stage, which examines efficiency and safety in a small group of patients. A third stage planned later on will include a wider examination with a control group.

Since being diagnosed as an ALS patient, Omri's condition deteriorated gradually. His motor skills were impaired, his breathing deteriorated to only 80%, he finds it difficult to talk and hold on to objects. He is also forced to use a walking stick and relies on his friends' support in order to walk.

But Omri's treatment stopped his deterioration, and his ability to move his hands has even improved. He was the youngest patient ion the group; Prof. Karussis explains that people in their 20s rarely suffer from muscular dystrophy, which usually appears between ages 45 to 65.

But several months later, the disease began deteriorating again, albeit at a slower pace. Senior officers in the Medical Corps pressed BrainStorm, Hadassah and the Health Ministry to allow the young captain to participate in a second trial, which was conducted about six months ago.
'IDF did not abandon me'
"The second treatment was a sort of compassion treatment," Omri explains. "According to estimates, this treatment should be received every few months. The checkups show that the deteriorations stops around the months closer to the treatment, after which a very slow deterioration begins again. I am talking now and you can understand me, and I don't know if healthy people can understand what a relief it is.

"The IDF accompanied me throughout the entire process, from the diagnosis through the treatment. It didn't abandon me in any way. They told me that whatever I wanted would happen, and it's been that way till this very day."

Despite the disease, he won't let his life stop. He lives in Tel Aviv with friends, studies programming at the Open University and plans to continue his studies in the future. He arrives at the Kirya Base every day for his classified role in the Intelligence Corps and performs his missions like any other officer.

"I handle the gaps between the way I was and the way I am now and I move on. I understand that optimism is the only way to do it," says Omri. "This faith is one of the reasons why my treatment was more successful. it succeeded with everyone, but I am an extreme case."

"The earlier the disease is treated, it can be stopped at its inception," says Prof. Karussis.

BrainStorm is an Israeli-American company whose treatment is based on technology developed by Professors Daniel Offen and Eldad Melamed of Tel Aviv University. Additional trials are expected to begin in the coming days at Harvard University, the University of Massachusetts and Mayo Clinic in the United States.