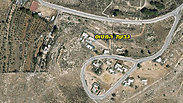 An aerial look of Givat Hamatos
The European Union has condemned an Israeli plan to build 2,610 new settler homes beyond the Green Line in Jerusalem, warning that the future of its relations with Israel depended on its commitment to peace.
Brussels called on Israel to "urgently reverse" actions leading to settlement expansion beyond the Green Line, in areas of Jerusalem that the Palestinians hope to make the capital of a future state alongside Israel.
"This represents a further highly detrimental step that undermines prospects for a two-state solution and calls into question Israel's commitment to a peaceful negotiated settlement with the Palestinians," the EU's diplomatic service said.
The housing units, which have been slated for construction since 2012 in the neighbourhood of Givat Hamatos, were given final approval last week, according to the Peace Now watchdog.
A solution to the conflict can only be found "if both parties refrain from unilateral actions that change the situation on the ground," he stressed, noting that "the EU will not recognize any changes to borders pre-1967, including with regard to Jerusalem, unless both parties agree."
"We emphasize that the future of relations between the EU and Israel depend on the commitment of the latter for a lasting peace and a solution comprising two states," he added.
The EU joined a chorus of condemnation from the United States, Germany and France.
The continuation of settlement construction is considered a major obstacle to efforts for decades to resolve the Israeli-Palestinian conflict.
200,000 Israelis live alongside 306,000 Palestinians in East Jerusalem, according to the Jerusalem municipality.