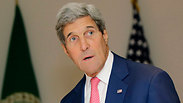 'Why hasn't Kerry lashed out at Qatar, which has become jihad organizations' chief funder?'
Photo: AP
One blunder is a mishap. Many blunders point to a problem.

Some years ago, it was US Secretary of State John Kerry who gave the delegation leaving to "liberate Gaza" a letter of support. State Department Spokeswoman Jen Psaki said Kerry had not been personally involved and had not known what it was about.

Another time was in the middle of the negotiations, when Kerry launched a series of statements about the anti-Israel boycott, warning that Israel could turn into an apartheid state. The Boycott, Divestment and Sanctions (BDS) movement's supporters scored another victory.

Dangerous Link

Top PLO official agrees with US secretary of state's assertion that conflict with Israel increases frustration, anger on Muslim street.

Several months ago, Kerry suggested a link between poverty and terror. The global jihad murderers, who want to turn the entire world into a dark place, were turned into welfare activists, and they didn't even know about it.

Now it's the Islamic State volunteers, whose motivation is being linked by Kerry to the Israeli-Palestinian conflict. Following angry reactions from Israel, State Department deputy spokeswoman Marie Harf rushed to argue that Kerry's remarks had been distorted. She's right. The original wording is much worse.

"All" Kerry said was that Arab leaders had told him that the Israeli-Palestinian conflict was creating anger which was pushing young people to ISIS.

It's interesting that he has never mentioned the fact that the huge Saudi and Qatari capital, which is invested in mosques around the world, including in Europe, is leading to radicalization. He hasn't lashed out at Qatar, which has become jihad organizations' chief funder.

He isn't accusing the anti-Semitic incitement which is growing in the Muslim world, with both approval and authority, and is being sponsored by al-Jazeera among others. Naturally, he isn't blaming the US itself, whose actions in Afghanistan and in Iraq have led to the killing of hundreds of thousands of people, mostly innocent.

This man repeatedly recites unfounded claims serving the radical propaganda, which is usually also anti-Western. What the hell is wrong with him?

Clare Short, who served as a minister in former British prime minister Tony Blair's cabinet, said in the past that "Israel is the major cause of violence in the world." It's hard to believe, but she even blamed Israel for global warming. Kerry isn't in that place. The US was and is still an irreplaceable friend.

But Kerry's series of comments clarifies that the man is caught in the post-colonialist conception which blames Israel for all the troubles of the world. This is a school of thought which is mainly anti-America, even before being anti-Israel.

We must salute Kerry for his insistence to reach an agreement based on two states for two people, but it's a shame that he is caught in a conception which is the biggest enemy of such an agreement.