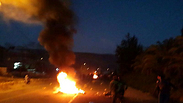 Kafr Kanna rioting, earlier this week
Over a 100 Palestinians and settlers clashed in Huwara, south of Nablus, throwing stones at each other on Monday night. Security forces were on the scene to disperse rioters on both sides.

In Kafr Kanna, protests against police shooting of Khair Hamdan continued Monday evening when dozens of masked rioters hurled stones and set tires on fire at the entrance to the village, blocking the entry road.

Rioters were shouting: "The blood of the martyr Khair Hamdan is precious to us" and "The policemen are the criminals."

One of the protesters, a resident of Kafr Kanna, told Ynet: "We repeat: We will not let the shooting of Khair Hamdan go unanswered. Whether Netanyahu likes it or not, we will continue fighting and protesting. The government needs to know the residents of Kafr Kanna will not let police cars into the village. They'd better not drive around inside our village until the policemen involved in the murder are suspended. If they're not, the policemen will suffer a great deal."

There were several rioting incidents in Nazareth on Monday. Some 120 youth blocked Paulus VI road in the city, threw trash cans and set tires on fire. Police arrested two suspects, one of them a masked 15-year-old and the other in his 20s. Both were taken for questioning at the Nazareth police.

In another incident, a stone was thrown at a bus and at a police car on Paulus VI Road. No one was hurt but minor damage was caused to the bus.

A swastika and the writing "death to Jews" were spray-painted on an outside wall and on the sidewalk near the Salesian Church of Jesus the Adolescent in the city. Nazareth police opened an investigation.

Protests continued in the Arab sector throughout the day. Thousands of high school students from Kafr Kanna and Sakhnin protested, demanding to punish the policemen who shot Hamdan. They waved banners with Hamdan's picture and called out "We will sacrifice our lives for the martyr and al-Aqsa."

One of them said, "We went out to protest to make sure our anger at the policemen who killed Hamdan is heard loud and clear. We demand the police and the government to punish them. We live as one nation, and no one is allowed to kill people from our nation."

Another student protester compared Hamdan's shooting to the stabbing attack in Tel Aviv, in which an IDF soldier was killed. "I'm sure the entire country will condemn the attack in Tel Aviv because the wounded is a soldier. When it happens in our sector no one says anything, so it means there's no value for Arab citizens' lives here."