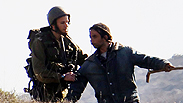 Soldier and settler clash (Illustration)
Photo: EPA
"Those who attacked us in Bat Ayin had blood in their eyes and were close to physically hurting us. We were fighting in Sajaiyeh just a few months ago during Operation Protective Edge and now we've become a target to the very people we defended," IDF soldiers from the Golani Brigade told Ynet on Monday.

The soldiers, from the IDF's 13th battalion, were attacked Sunday in the West Bank settlement of Bat Ayin and responded by firing several warning shots in the air. They had been deployed to the area to secure the area for police officers, who were conducting a number of arrests of far right activists.



The initial investigation held by the Judea & Samaria Division discovered that right-wing activists attempted to physically assault the soldiers and engaged in rock hurling at them. Two teens was arrested in connection with the attack.

"We have not seen such violence from Jews towards soldiers since (the 2011) Ephraim Brigade incident" in which the brigade's commander was attacked by settlers who then raided the force's base.

"They have crossed the line against those who are here to protect them," a soldier said.

Another combat soldier from the forces said he felt as if "radical settler" had "spit" in his face. "No one has even appoligzed yet. There seems as if there is no difference between tehm and the terrorists in Hebron who throw stones or firebombs at us."

Firing the warning shots in the area is unprecedented action against settlers, the soldiers said, adding they felt as if they had no choice as they were being psychically threatened.

Head of the unit's intelligence said the fear is now settlers will attempt to take revenge against the forces: "We are only here for a couple of days, but we're afraid they will target our base or equipment in a 'price tag' attack like they did in Yitzhar."

Monday passed without incident as the IDF continued to investigate the incident, after two minors were arrested Sunday for attacking soldiers and Palestinians.

The IDF said in response that it "views such incident with the utmost severity." According to the IDF, "beyond the fact that this was illegal, it is distracts forces from their main objective - maintaining calm in the area."

The suspects' lawyer said the IDF was infringing on their clients' rights, which they noted were minors.