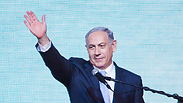 Prime Minister Netanyahu
Photo: AP
WASHINGTON – Prime Minister Benjamin Netanyahu continued to receive sharp criticism from the Obama administration on Friday over his pre-election comments that opposed to a Palestinian state, with White House spokesman Josh Earnest saying that the prime minister "indicated a weakness in his commitment to a two-state solution."
In doing so, Earnest continued, "he was indicating a difference of opinion not just with President Obama but with the policy that was pursued by President Bush." Earnest's comments constitute a direct continuation of statements made by the White House that the US has to 'reevaluate' backing for Israel at the United Nations – despite the prime minister's recent attempts to recast his statements in an interview with NBC.
The growing tensions between the two allies prompted journalist Jeffrey Goldberg, a national correspondent for The Atlantic, to write in his latest column that the question on the table today is not whether the United States is able to provide diplomatic cover for Israel at the United Nations, but whether it is willing to do so.
Netanyahu's remarks against a Palestinian state on the eve of his election victory had significant consequences, Goldberg writes, noting that "it's clear that President Obama is not particularly interested in spending political capital on behalf of Netanyahu in order to block a resolution recognizing Palestinian statehood."
Goldberg writes that the Israeli prime minister will have to prove in the coming weeks that he is indeed committed to a two-state solution. If the Security Council recognizes Palestine as an independent state, writes the journalist known for his close ties with Obama, Netanyahu will not have the time to prepare in advance "before Israel becomes a true pariah".
The journalist also states that leaders of the American Jewish community are experiencing great anxiety over the possibility that Israel, under Netanyahu's leadership, will become an isolated country.
American Jews are growing increasingly infuriated with Netanyahu, a number of articles published over the last week claimed. According to one New York Times report, Netanyahu's campaign rhetoric worked to "further divide American Jews and alienate even some conservatives."
Netanyahu's warning on election day that "Arab voters are going to the polls in droves," putting his right wing Likud Party's rule "in danger," also upset many Jews, "who are overwhelming liberal and deeply involved in advocating for civil rights," the article continued.
Many were particularly angry with Netanyahu's rejection of a two-state solution, as the issue of "support for a two-state solution has been a central goal for most Jewish pro-Israel groups," – although the prime minister has since attempted to backtrack on those comments.
Another NYT article claimed that the "White House is stepping up its antagonism toward Prime Minister Benjamin Netanyahu". According to the piece, the Obama administration "is in no rush to repair a historic rift between the United States and Israel."
The prime minister's campaign tactics drew sharp and extensive condemnations from rabbis, American Jewish scholars and Jews nationwide, who suspect him of being more committed to building settlements than to promoting peace with the Palestinians.
Many US Jews, including the younger generation, the NYT article claims, are worried that Netanyahu's continued leadership will ultimately lead Israel to isolation.
The NYT quoted Rabbi Misha Zinkow at Temple Israel in Columbus, Ohio, as saying that one of his major concerns was "the lack of engagement of North American Jews with Israel" — a growing phenomenon among younger Jews, he claims.
"The scare tactics that emerged in the 11th hour of the election appealed to very deep anxiety and fear," Rabbi Zinkow said. "They deepen the distance and provide fodder for those who want to disengage. Those statements appealed to emotions that young American Jews just don't have, and they sound racist."
The Jewish Journal's Rob Eshman made similar comments on Thursday, writing that Israel's elections have proved that American Jews and Israelis are "drifting apart".
The US Jews "seemed to assume that Israelis couldn't possibly reelect a person who had become so anathema to us," Eshman noted.