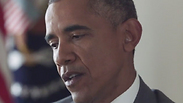 'Obama is wrong, he isn't an enemy'
Prime Minister Benjamin Netanyahu's blitz of interviews in the American media is bearing fruit. He is faced by US President Barack Obama with his own blitz of interviews, head-to-head.

Most of the Congress members support Netanyahu. If the nuclear agreement's opponents recruit a few more Democrats, they will have a majority to overcome Obama's veto.

US-Israel Ties

Op-ed: In the absence of secret understandings between Israel and the United States, and without a close relationship between the leaders of the two countries, Israel will find it hard to influence any future negotiations with Iran.

Netanyahu can defeat Obama in this battle, but it might be a pyrrhic victory. The agreement is a bad one. Netanyahu's arguments are much more valid and convincing. Obama's insistence to legitimize the ayatollah regime raises concern – why Iran is the only state in the world which is publicly threatening to destroy another state. Whoever sees these calls for destruction as "arrogance" is forgetting that as we speak, Iranian forces – or forces sent by Iran – are committing horrific acts in Iraq, Syria and Yemen, and that Iran is arming Hezbollah with weapons to massively target Israel's citizens.

Despite all that, we should be careful, because the American administration, in spite of the agreement with Iran, is still Israel's most important ally. We must not lose it.

The problem can be found in another byproduct which we must not ignore: Humiliating the president of the United States could evoke anti-Semitic blast waves. The anti-Semitic virus still exists, even within the free world. Humiliating the president of the world's greatest power will serve as further "proof" that the Jews are pulling the strings with their fortune. Not that it's true. Those who oppose the agreement are not doing it because of the "Jewish power" – they are doing it because it's a bad agreement.

Even most of the Arab countries are against this agreement, and support Netanyahu rather than Obama. The Arab capital which reaches universities and research institutes is much more influential than the Jewish capital. A series of research institutes supported by Saudi billionaire Alwaleed bin Talal produce publications which sometimes sound like Hamas propaganda. Even a country like Norway invests in this field much, much more than Israel. Every Jewish donor is faced not just by bin Talal, but also by donors like George Soros, who invests a fortune against Israel. "The Jewish-controlled press," as the anti-Semites call it, is usually critical or anti-Israel, especially when its writers are Jewish.

Despite all that, we should be careful. Anti-Semitism never needed rational arguments. Humiliating Obama will provide Israel's haters with unconventional ammunition, and there are already despicable people like David Duke, the anti-Semitic racist, who are eagerly grabbing every anti-Israel publication – journalistic or academic – coming from the left-wing circles.

In these fields, there is an anti-Zionist coalition of radical left and radical right. The book against the pro-Israel lobby was written by two distinguished professors from two leading universities. It was turned, by the anti-Semites, into an updated edition of the Protocols of the Elders of Zion.

Nonetheless, anti-Semitism is still in the margins – but that could change. Obama's humiliation by Israel's supporters will only raise the level of propaganda of this rightist-leftist-anti-Semitic coalition to frightening heights.

How can we prevent this bad agreement and avoid a pyrrhic victory? Netanyahu is fighting for the right goal, but is not always doing it the right way. Iran's leader, Ali Khamenei, has made it clear that he wants a different agreement from the one Obama is marketing. That gap should be widened.

Obama is wrong, he isn't an enemy. We should make him climb down the tree. There is no need to cut off the tree.

This is just a warning call, because we must prevent big trouble. There is no need to create new trouble.