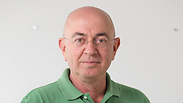 Yoel Esteron
Photo: Orel Cohen/Calcalist
A curious reporter wondered who was Shlomo Filber, after he was surprisingly appointed as Communications Ministry director-general. She looked him up in Wikipedia but found scant information, mainly about some article he penned after the assassination of Yitzhak Rabin, for a magazine "Nekuda" aimed at the settlers of Judea and Samaria.
So she searched the Beit Ariela municipal library for a copy of the said magazine – luckily the archives hold copies of the discontinued publication, otherwise we would have missed the opportunity to witness the violent outbreak of paranoia at the PM's residence. A typical case of the music of chance, as occasionally happens in the media.
The Filber story isn't that important. The man who published a conspiracy theory about the assassination now suddenly claims he merely signed his name in the item but did not actually write it. That's hard to believe. He cast the blame on the editor at the time, Uri Elitzur. Since Elitzur has passed away, it's kind of hard to get any information out of him.
Yet in an interview from January 1996, Filber reiterated his delusions. Hopefully he's come to his senses by now. Maybe he's just a standup guy who loves science fiction. Whatever.
Of course, the issue here is not Filber. It's Benjamin Netanyahu. A recent item in Calcalist, which was quoted by most Israeli newspapers and media channels, and a story about Netanyahu's legal team by Nahum Barnea, infuriated the prime minister, who does not believe in coincidence or plain curiosity.
Thus, late Thursday night he published a post on Facebook in which he openly incited the public against hundreds of journalist from the Yedioth Ahronoth group and its publisher. Responses were quick to follow – after all, where there's an inciter and some good old incitement - there are always those who would willingly be incited. Apparently the police have better things to do then to deal with this violation.
Prior to the general elections, Netanyahu employed a tactic of vehement incitement against the media in order to steer the public's attention away from a grave report by State Comptroller Yosef Shapira on the over-the-top spending by the Prime Minister's residence. It's unclear what got a bee under the PM's bonnet this time – perhaps the growing expenses in his Caesarea palace. Nonetheless, his recurrent outbursts against freedom of speech are disconcerting and should sound an alarm bell in our mind.
Most of Israel's media channels are closely watching the prime minister's beyond-belief actions, ever since he appropriated the Communications Ministry, among others. The puzzle is complete and now the picture is clear – Netanyahu has decided to rein in the insubordinate media in order to silence any criticism against himself or his misdeeds. For this end he ridiculously claims that the media fails to accept the outcome of the elections. No more than an empty claim. He's just sick and tired of those pesky reporters who simply refuse to be part his sycophant cadre of yes-men.
Israel has had its share of media-loathing rime ministers, who nonetheless accepted that democracy protects the media. However, in his tenth year at the helm of government, Netanyahu places himself above the checks and balances inherent to a democratic society and behaves in unprecedented brutality against any hint of public criticism. Some even liken him to Erdogan or Putin. Maybe he's starting to feel good with that comparison.
There are those who maintain that the media's criticism against Netanyahu is unjustified. This indeed deserves serious consideration; however, freedom of speech means the right to err and to stand corrected. Symmetry does not apply here; the media has the right to safely criticize government and the government - understandingly or begrudgingly – must accept this. It cannot use its power to suppress criticism by means of draconian laws or unbridled incitement.
Some 20 years ago, Netanyahu was among those who incited the people against then prime minister Yitzhak Rabin; in 2015, he's spearheading a campaign to silence the media. The inciter is at it again.
There is bitter rivalry in the media. Sometimes this is healthy; At times it can overstep the bounds of good taste. But these mutual blows pale in comparison to the worst assault on the freedom of speech Israel has ever known. It is time to take arms against this danger – each and every newspaper, radio station and TV network must do what it can to put an end to this campaign of intimidation.
We are charged with the responsibility to continue reporting professionally and objectively, to uncover violations and infringements. And if needed – to criticize – scathing as it might be. And above of all – to carry on without fear.