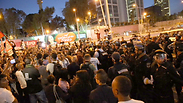 Protesters on the street
Photo: Motti Kimchi
Around 100-200 people, many of them from the Ethiopian community in Israel demonstrated against police brutality and racism outside the Azrieli Towers in central Tel Aviv on Wednesday, eventually blocking Begin Road, a major thoroughfare.

Following two hours of quiet protesting, at 8 pm scuffles began to erupt and seven protesters were arrested.

At one point, police shoved back protesters who walked into the road.

One protester said that he was demonstrating because after 30 days, police officers who beat an Ethiopian Israeli soldier on camera have not been brought to justice.

Police meanwhile warned that the demonstration was being held without a permit and that because it had identified the intention to provoke violence, cautioned that it would take a "zero tolerance" policy towards protesters breaking the law. A similar protest last month drew thousands and ended in at least 46 people being wounded.

"The discrimination we have all seen must not happen," said one demonstrator. "We as Jews stand up every year during a siren in memory of six million Jews, we read the Passover Hagadah and what Pharaoh did. Can a Jewish government do such a thing to its people?"

A demonstrator from Netanya said earlier in the day that the protest would not be violent. "There's a lot of anger because of the policeman who beat a soldier, but the anger is not just about that," he said.

"We feel the pain of discrimination against children segregated in classes and feel that being an Israeli of Ethiopian origin is difficult. They don't accept you because you're different, even though you're not different. Our parents came here with great love, and now there is great pain."

Publicity for the protest emphasized nonviolence, with the central demand that the policemen who hit soldier Damas Pakada be brought to justice.

Protesters said they were dismayed at the lack of progress in the case. "It feels like nothing has changed in the last few weeks," said one. "It's all talk. So that's what we are going to protest against."

Another scoffed at those who deny there is institutional racism in Israel, saying it was like saying there is no anti-Semitism in Europe.

Chief Superintendent Hila Hamo, the spokeswoman for Tel Aviv District Police, said the police was aware of "militant intentions among radical elements within the protestors, who incite to violence and hurting civilians, policemen, and property."

Eli Senyor contributed to this report.