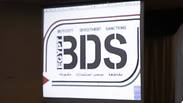 Surrender and disgrace in Israeli anthropological association following boycott fears
Photo: AP
A powerful American conservative organization expressed its discomfort over the liberal and post-Zionist inclinations of an Israeli research institute it has work relations with. It sent a delegation to look into the prevalent views at the institute which had "gone astray," and the members of the small institute panicked. The relationship with the donor organization was important to them – trips, sabbaticals, participation in conferences, publication of articles. Their dependence is complete, and they were afraid of a boycott.

So they issued a manifesto clarifying that they support Benjamin Netanyahu's government, are against dangerous concessions to the Palestinians and declare that Jerusalem will never be divided.

Boycott Campaign

Op-ed: Under the protection of secrecy and lack of transparency, a barrier stronger than any boycott is slowly being built in the world of academic journals.

That never happened. There is no chance it would happen. And if it had happened, we can assume that it would have caused a major shock, including the regular slogans about oppression, dark people, fascists and silencing.

But an opposite thing happened. The American Anthropological Association (AAA), which includes 12,000 members, is threatening to join the anti-Israel boycott – and has sent a delegation to look into the situation. The Israel Anthropological Association (IAA), which includes only 102 members, was concerned about the expected resolution. It may cost its members a heavy price of rejection of articles for publication, cancellation of invitations to conference, etc – which is something no academic can endure.

In order to prevent trouble, the association issued a manifesto calling for an end to the occupation, for the reconstruction of Gaza following last summer's destruction and for a just solution to the Palestinian refugee problem.

Let's assume, just assume, that some of the anthropologists in Israel believe that Gaza's problems stem from Hamas' jihadist ideology and from its calls for the annihilation of Jews, or believe that Israel should call for an end to the incitement in the Palestinian Authority and that Palestinian President Mahmoud Abbas' insistence on the right of return is the biggest obstacle to peace.

And let's assume that there are anthropologists who think that focusing on the problem of the Palestinian refugees, while ignoring the expulsion of Jews from Arab countries, aggravates the problem rather than solves it. What then? Are their views illegitimate? Is a certain body supposed to threaten them with a boycott if they fail to adopt "the right stance"?

If the Israeli anthropologists had academic freedom of expression flowing in their veins, they should have said to the big brother in the United States: "We are free people. There are academics among us with different and contradicting views. Many of us voice profound criticism against the Israeli governments' policies, while others have different opinions. We are proud of this diversity. It's the basis of academic freedom. A uniform stance befits dark regimes.

"Therefore, we have no interest in dictations. The boycott threat, which means forcing one and only one stance, is a serious violation of the freedom of expression, and is seven times more serious when a lecturers' organization threatens to boycott academic institutions in Israel. We expect you, as academics, to defend every academic's right to voice unconventional views too. We expect you to clarify that there is not just one correct opinion – and we expect you to defend the academic freedom of expression."

Similar comments were actually made in a meeting with representatives of the American organizations, and it's good that these comments were made. But at the end of a two-day conference of the anthropologists in Israel, after most of the participants had left, as this "manifesto" emerged part of a discussion on the danger of a boycott. The remaining minority voted in favor of it.

There is a variety of views among anthropologists in Israel. That's the way it should be. A collective stance which adopts one outlook is bolshevism and contradicts academic freedom. How exactly should an anthropology student with a different opinion feel? Why she is studying in an atmosphere of academic harassment.

The manifesto is a combination of surrender and disgrace. Those who voted in favor of the decision call themselves anthropologists – but it turns out that they are mainly morally defiled.