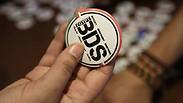 NEW YORK - The top legislative body of the United Church of Christ voted Tuesday to divest from Israeli companies with business in the Palestinian territories, a sign of the growing momentum of a protest movement against Israeli policy.

The US-based liberal Protestant group's General Synod endorsed the action on a vote of 508-124 with 38 abstentions.

Later Tuesday, the denomination was to vote on whether to label Israeli policies in the territories as "apartheid."

Last year, the Presbyterian Church (USA) voted to sell stock in a few companies whose products are used by Israel in the territories. The United Church of Christ resolution was broader. Delegates are calling on the denomination's financial arms to sell off stock in any company profiting from what the church called human rights violations arising from the occupation.

The church's two major financial arms, a pension board and investment fund, together control nearly $4 billion. Each is guided by directors who can decide whether to follow the call for divestment. If they do sell off stock, the economic impact on Israel is expected to be negligible.

Still, the vote aims to bring moral pressure for change from within the US, Israel's closest and most important ally.

The church also voted to boycott products made in the Jewish settlements in the West Bank.

Related stories:

Peter Makari of Global Ministries, an agency that is part of the United Church of Christ, said the resolutions "reflect our urgent concern for the worsening effects of the Israeli occupation on Palestinian people and lives, including the disparity in rights and power." The church affirmed Israel's right to exist, along with a "sovereign, independent" Palestinian state.

The American Jewish Committee, an advocacy group based in New York, slammed the resolutions and said the action would "bolster those who oppose peace."

Separately, the Episcopal Church, meeting in Salt Lake City, was considering a divestment resolution. And at another meeting this week, the Mennonite Church USA will also take up a divestment proposal.

The votes take place as the boycott, divestment and sanctions movement, known as BDS, gains strength on US college campuses and in many places in Europe. The Israeli government and many Jewish leaders have condemned the movement as anti-Semitic and an attempt to delegitimize Israel.

Makari said the United Church of Christ vote was not "a blanket endorsement" of BDS, "but it's in the spirit of the call."

The movement grew from a 2005 international call by Palestinian groups as an alternative to armed struggle over control of the West Bank, Gaza and East Jerusalem, which Israel captured in 1967 and Palestinians seek for an independent state.

BDS advocates say the movement, based on the campaign against South African apartheid decades ago, is aimed at Israeli policy, not Jews, in response to two decades of failed peace talks and expanded Israeli settlement of the West Bank and East Jerusalem.