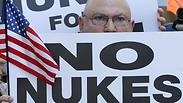 Protest against nuclear deal in Times Square
Top Republicans vowed Wednesday to do their utmost to scrap President Barack Obama's nuclear deal with Iran as the biggest pro-Israel lobby prepared for an all-out campaign to pressure wary lawmakers into rejecting the agreement.

A bigger push against last week's historic accord in Vienna was being met with a counteroffensive by senior Obama administration officials, who have already spent hours on in-person and telephone briefings with members of Congress.

Protest in New York City (צילום: רויטרס)

Secretary of State John Kerry, Energy Secretary Ernest Moniz and Treasury Secretary Jack Lew briefed the entire House of Representatives and Senate in separate closed-door sessions on Wednesday and will defend the deal at a public Senate Foreign Relations Committee hearing on Thursday.

As Congress opened a 60-day review of the deal, Republican US House of Representatives Speaker John Boehner told reporters: "Because a bad deal threatens the security of the American people, we're going to do everything possible to stop it."

Obama insists that the Iran deal is the only alternative to more war in the Middle East.

Israel pressed lawmakers on Wednesday to block the deal, with Israeli Ambassador Ron Dermer meeting privately with a group of about 40 House conservatives.

The most influential pro-Israel group, the American Israel Public Affairs Committee (AIPAC), will deploy about 300 lobbyists on Capitol Hill next week to try to convince lawmakers, especially undecided Democrats, to vote against the deal, according to officials in the pro-Israel camp.

AIPAC's plans are being coordinated with allied groups such as Citizens for a Nuclear Free Iran that are sponsoring a national television advertising campaign, the pro-Israel sources said. They are expected to spend upwards of $20 million, one source said.

In Manhattan, thousands of protesters packed into Times Square on Wednesday evening to demand that Congress vote down the proposed deal.

As the crowd loomed behind police barricades, chants of "Kill the deal!" could be heard for blocks. The event, billed as the "Stop Iran Rally" consisted mainly of pro-Israel supporters, though organizers said it represents Americans of all faiths and political convictions.

At the rally, Alan Dershowitz, a prominent Jewish attorney, said he was "opposing the deal as a liberal Democrat." He said he believed democracy was "ignored" because the Obama administration negotiated the deal without congressional input.

"That is not the way democracy should operate," he told the crowd.

A Reuters poll taken in the days after the July 14 announcement of the Iran deal, showed 44 percent of respondents who said they were Republicans opposed the agreement, up sharply from about 30 percent in April.

Democratic support for the deal held steady at 50 percent, though opposition among Democrats grew to 16 percent from nearly 10 percent in April, according to the poll.

Republican support for a deal fell during that same period from 31 percent to nearly 27 percent. The number of Republicans who responded was 471, compared with 1,117 in April when the major powers and Iran signed a framework agreement.

Under a bill reluctantly signed into law by Obama in May, Congress has until September 17 to decide whether to approve or reject the agreement between Iran and world powers to rein in Iran's nuclear program in return for sanctions relief.

Republicans control majorities in both houses of Congress. Many have come out strongly against the pact, which they say will empower Iran and threaten US ally Israel.

Some said they wanted to know more.

Republican Representative Dennis Ross said he was predisposed against the agreement but, after the briefing, "I am probably inclined now to dig further and verify for myself."
Partisanship
But if Congress passes a resolution disapproving of the deal, dozens of Democrats would have to vote with them to override the Democratic president's threatened veto, which is not likely in the fiercely partisan Congress.

"It's a steep climb but not an impossible climb," the pro-Israel group official said of the coming campaign.

House Democratic Leader Nancy Pelosi has come out strongly in favor of it. Among the senior Democrats whom pro-Israel lobbyists hope to win over is Senator Chuck Schumer, a strong advocate for Israel's security who has yet to state his position.

Schumer told reporters as he left the hearing that he was still deciding. "It's a serious issue and I'm studying it carefully, giving it what it deserves," he said.

Several Republicans said the Cabinet secretaries had not eased their concerns about several issues, particularly the ability to "snap back" sanctions if Iran violates the deal and the system for inspecting Iranian nuclear facilities.

Senator Ted Cruz, a 2016 Republican presidential candidate, said the agreement would provide Iran with billions of dollars that would be used to murder Americans and their allies.

"If this deal goes through, it will transform the Obama administration into the world's leading financier of radical Islamic terrorism," he said.

Deal opponents in the pro-Israel camp believe more lawmakers can be swayed by detailed arguments about what they see as loopholes that Iran could use to skirt the agreement.

Pressure from AIPAC, whose members' support is widely coveted, could also worry lawmakers up for re-election. AIPAC boasts 100,000 members.

At the same time, J Street, a smaller liberal pro-Israel group, is urging supporters to lobby Congress to support the Iran deal.

Kerry told reporters before the House meeting that the deal "will make the region, our friends and allies, safer. It will make the world safer ... in the absence of any viable alternative."