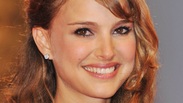 Natalie Portman
Photo: GettyImages
Israeli-born Hollywood star Natalie Portman, known for being vocal about her frank and at times controversial opinions, has called on the Jewish community to question how much emphasis is placed on the Holocaust compared to other atrocities.

In an interview with the British newspaper The Independent, published over the weekend, she said that "I think a really big question the Jewish community needs to ask itself, is how much at the forefront we put Holocaust education. Which is, of course, an important question to remember and to respect, but not over other things."

The 34-year-old actress. who was born in Jerusalem and moved to the US with her family at the age of three, said that while she was at school in 1994 learning only about the Holocaust, the genocide going on in Rwanda at the time was never mentioned.

"That is exactly the type of problem with the way it's taught. I think it needs to be taught, and I can't speak for everyone because this was my personal education," she said, noting she reached that conclusion after a visit to a museum dedicated to the Rwanda Genocide.

"We need to be reminded that hatred exists at all times and reminds us to be empathetic to other people that have experienced hatred also. Not used as a paranoid way of thinking that we are victims," she told the Independent, adding that "Sometimes it can be subverted to fear-mongering and like 'Another Holocaust is going to happen.'"

She went on to explain that "We need to, of course, be aware that hatred exists, anti-Semitism exists against all sorts of people, not in the same way. I don't mean to make false equivalences, we need it to serve as something that makes us empathetic to people rather than paranoid."

Portman has also been vocal about her opposition to Prime Minister Benjamin Netanyahu, and publicly stated that she found his "racist comments horrifying."

"It's the thing about democracy, it happens in the US, in France, everywhere, sometimes people get elected that you wouldn't elect yourself and you have to live with it," she said of Netanyahu's reelection. "So you raise your voice, you need to speak out, protest when things are going wrong, but that is being part of a democracy. Of course, it's also depressing when people think different than I do, but that is also the joy of humanity."

Portman is currently promoting her new movie, "A Tale of Love and Darkness," an adaptation of Israeli author Amos Oz's memoir about Israel's formative years and the impact it had on his family. Portman directed the movie, and also stars in it in the role of Oz's mother, Fania.

Despite having learned Hebrew at school, speaking Hebrew in the movie was "more challenging than I expected. I am pretty good but I still make a lot of grammatical errors, and I had to work a lot on my accent. It was okay to have an accent because my character in the movie is an immigrant, but it's not OK for her to have an American accent," she told the Independent.

The movie was first screened at the Cannes Film Festival and will premiere in cinemas on September 3.