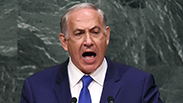 Prime Minister Benjamin Netanyahu's speech Thursday at the General Assembly was mainly directed to President Barack Obama and to the leaders of the five permanent members of the Security Council and German Chancellor Angela Merkel.

Netanyahu's message focused on how Israel intends to deal with the threat of Iran's nuclear program, terrorism and subversion.

Regarding the Iranian nuclear issue Netanyahu's message is clear. You signed an agreement? At least make sure the Iranians respect it to the letter. If you do not, says Netanyahu, we will not let you off so easily. In other words, you, President Obama, David Cameron and Angela Merkel, shirked your responsibility. The agreement is bad, but if you do not enforce it, we shall force you to enforce it.

Prime Minister Benjamin Netanyahu speaking at the UN (מתוך היוטיוב לייו של ערוץ האו"ם)

Netanyahu also explained that he intends to do this through close monitoring and continuous dialogue with the US leadership. In addition, Netanyahu issued an implied threat that Israel will do whatever is necessary to defend itself.

This statement is designed to bring back the Israeli military option - that is attacking nuclear facilities and missiles in Iran - to the international arena. After the nuclear deal was signed with Iran, many commentators and many Western diplomats actually determined that the Israeli military option was no longer on the table, as Israel would not dare attack Iran after it had signed an agreement limiting its military nuclear project and agreeing to tighter controls on its nuclear program.

Netanyahu told all those commentators from the UN's podium that the Israeli military option is alive and well, and if necessary will be used. Netanyahu was vague and did not explain under what conditions he intends to use the option, but his message that Israel would not shy away from action under certain conditions was clear.

Netanyahu issued a similar message regarding Iranian terrorism and subversion directed specifically against Israel and the region in general. Netanyahu said that Israel would know how to deal with this matter on its own and he even added a clear indication that he expected the US to help Israel in this matter. Just as he mentioned enforcing the agreement with Iran, Netanyahu was saying that Israel will give reminders and will not allow them to avoid their responsibilities.

He even said it, "to sweep Iran's aggression and violations under the Persian rug." We will bother and nag you and if necessary we will act on our own so it is best that you act first. This is the threat which led to the imposition of sanctions on Iran four years ago and Netanyahu used it again Thursday at the UN General Assembly to incentivize the West not to make concessions to the Iranians in any area, whether it be terrorism or their nuclear program.

The rest of the speech contained no novelties. It was rhetoric a la Bibi at its best. He knows the job. The UN is an ideal platform for him as a man of words. It was there where he started his career, and where he gave speeches perhaps only equal the speeches of Abba Eban, our legendary foreign minister.

On Wednesday, Abbas said in his speech that the Palestinian Authority is no longer committed to its agreements with Israel. Netanyahu replied, but without excessive aggression, probably because he did not want to create additional interest for the Abbas's speech.

At this UN General Assembly most world leaders preferred pushing the Palestinian issue to the side and Netanyahu, rightly, did not want to emphasize again Abbas's message on Wednesday, regarding the possibility the PA will suspend its obligations towards Israel. Netanyahu, justifiably, prefers to let Abbas's words evaporate into the New York air and not undermine his message about Iran.

One can argue that the speech Netanyahu delivered was a sober one from an Israeli statesman, pragmatic and not ideological, which reminded the world of its moral duty towards Israel in connection with the Iranian nuclear threat.