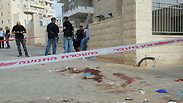 Scene of terror attack in Beit Shemesh. There are people who become addicted to this sights
Photo: Alex Kolomoisky
French-Jewish philosopher Raymond Aron once defined terror as "a violent action with psychological effects which are disproportionate to its purely physical results." Indeed, in terror we don't only count the number of people killed, but also the number of people who enter a state of anxiety as a result, as well as its public, national, economic and political impact.

And so it could happen that a small group of people, with a limited number of attacks, spreads insecurity and uncertainty in an entire country. It pressures the decision makers, who respond forcefully, and it encourages more terror, and a further escalation, until the collapse. That is the goal of Arab terror in Israel.

'Churnalism'

Op-ed: A grossly erroneous report on the Jerusalem attack seems to corroborate claims about the broadcaster's deep-seated anti-Israel bias. It doesn't: The real reason for the mistake is much more alarming, and it has nothing to do with Israel.

A stone thrown by terrorists could turn into a huge snowball, through the different media outlets - the magnifying glass of terror - among other things. It's hard to control the Web, but the Israeli citizen mostly uses the traditional electronic media, television and radio, in order to receive immediate updates on the situation. And in every attack he is overcome by panic: Live broadcasts, special programs, fiery reports from the area - without any editing, selection or control. Confused reporters, shouting citizens, and a lot of commotion.

That is the exact purpose of terror, any terror. The effect is also intensified by the surroundings of the attack which reaches every home - the sights, the rumors, the sounds, the shooting, the weaknesses - and that is already the pornography of terror. And there are people who become addicted to it.

The electronic media play a huge part in spreading the anxiety virus among millions of people, and they must understand that. A stabbing attack is reproduced in millions of homes, turning into millions of stabbings. The footage is enough to spread anxiety, but airing it again and again and again has an ongoing, serious and destructive psychological impact.

In the United States there are clear rules for all media outlets when it comes to covering mass terror attacks or disasters, and that is seen very well in the shooting attacks which take place there quite frequently: There are no live broadcasts, the well edited footage is from faraway, in retrospect, often after the incident is already over, and usually with tightly supervised still images. There is a neutralization of emotions, there are no bleeding bodies and there is no panic. There is always a trigger warning, especially during hours when children are watching the screen.

All that does not exist here. Is the US a lesser democracy than Israel? Is there no freedom of expression there?

That's how they report there, but at the same time they sterilize as much as possible the anxiety-creation motive, which is unnecessary. Some 3,000 people died in the World Trade Center attack, but not a single drop of blood, not a single body, anxiety or panic were seen on the American media. It's easy to assume what would have happened if the Israeli media had covered the event from the ground.

It's time for the electronic media in Israel to reach acceptable rules: You don't gain ratings at the expense of citizens' blood, and in terror attacks there should be no competition. Say no more. These rules are not complicated. They can be adopted from the American media and implemented. Unlike social media, when it comes to electronic media the citizen expects to hear news, not a spread of panic.

It's not a media issue, it's a strategic issue, as terror without the trail of anxiety is seeks to achieve will fade away on its own. It will find it difficult to achieve its goals, and will be extinguished. The biggest addict of the pornography of terror is terror itself.