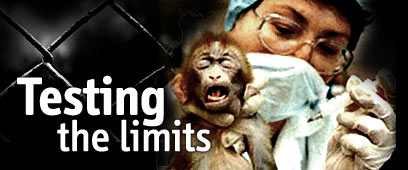 More and more animals are being used in experiments
Photo: Israeli Society for Abolition of Vivisection
TEL AVIV - Animal rights supporters are not deluding themselves regarding the prospects of ending what they believe to be unnecessary animal testing, and the current numbers are not in their favor.

According to data from the National Council on Animal Experimentation itself, animal testing has increased gradually over the past few years. In 1999, some 270,000 animals were used. By 2003, the number had risen to 318,000, an 18 percent increase.

These figures do not include animal testing conducted by defense-related organizations, such as the IDF's medical corps and The Israel Institute for Biological Research, an Army affiliate, in Nes-Tziona, because they are not obligated to submit information.

Young academics can turn situation around

Sagy Agmon, legal counsel to several animal rights groups, said defense-related organizations conduct roughly the same amount of animal testing as all the other organizations combined, so council figures could be doubled.

However, despite the uphill battle they are waging, many who support the anti-vivisection campaign still believe the current situation can be changed for the better.

Council member Elad Feigin, who represents animal rights' groups, said work must be done at the university level, but should not focus on trying to convince senior professors to mend their ways, because they have too many interests dependent on maintaining the current system.

"We must turn to the students and young academics, because they possess the mental flexibility necessary to change things" he said. "Eventually they will become professors, and the incumbent professors will be in nursing homes."

Not all animal rights supporters have lost hope of trying to change the existing system from within.

'More secrecy means more corruption'

Ayelet Salee-Raiz, spokeswoman for the Society for Ethical Science, said the council could make a difference, even though the Animal Protection Law is problematic, and legislative changes must be made to improve the animals' conditions in the research labs.

"I am convinced if the NCAE does its job as it is defined by law, the situation will get better," she said.

Agmon said the law must create a balance between animal rights and scientific advancement, and a new council, whose activities would be completely transparent, should be established.

"The new council cannot have any conflicts of interest, and the public must be involved," he said. "Organizations which conduct animal testing must be scrutinized by the public eye."

Anat Refuah of the Israeli Society for Abolition of Vivisection said changing the council's structure, whereby animal rights representatives would have more clout, is key to improving the animal testing situation.

"More secrecy means more corruption," she said. "A different NCAE lineup will see to it that things are done more openly, and greater supervision over animal testing will ensue."

Former council member Danny Sherman said the recent critical State Comptroller's report is a step in the right direction, because it legitimizes the anti-vivisection campaign.

"Until now, claims made by animal rights supporters regarding animal testing were dismissed because they were thought to be biased in nature," he said. "But the report, which came from the most objective source in the country, verifies our arguments."

However, he said most of the State Comptroller's suggestions have not carried out, and therefore its publication is not enough to change animal testing in Israel.

"Animal rights supporters must turn to the enforcement authorities to carry out the report's proposals," he said. "This should be done not only to promote the animal rights issue. It should be done to help fix society; to help fix the country."