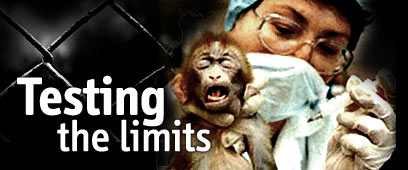 Aspirin was discovered without the use of animals
Photo: Avigail Uzi
TEL AVIV - The British Medical Journal questioned the validity of using animal experimentation to develop cures for human diseases in a February 2004 article.

"Clinicians and the public often consider it axiomatic that animal research has contributed to the treatment of human disease," said the article. "Yet little evidence is available to support this view."

The article, written by group of British and American professors, said animal research should be put on hold and reevaluated.

"Ideally, new animal studies should not be conducted until the best use has been made of existing animal studies and until their validity and generalizability to clinical medicine has been assessed," the article said.

Veterinarian Andre Menache, a National Council on Animal Experimentation member until late 2003 and currently a scientific consultant for Animal Aid in England, said the real alternative to animal testing entails using human instead of animal tissue.

Modern biology has provided medical researchers with important new tools, and it is now possible to study cell function at the molecular level, where nearly all disease processes begin, Menache said.

"The discovery of gene function, or genomics, has further helped to understand the mechanisms of health and disease," he said. "Because genomics is complex and generally species-specific, it is important to study cells and tissues belonging to the species under investigation."

'Aspirin and Digitalis discovered without vivisection'

He said in the case of humans, it is possible to study any cell type from donated human tissue for purposes of medical research, including brain cells.

"As a veterinarian, I can say there is medicine for dogs that can't be used on cats," Menache said. "So you certainly cannot use dog tissue to research medicine that is designated for humans."

Council member and Noach representative Dr. Elad Feigin of Shaarey Zedek Hospital in Jerusalem said the huge budgets provided for "painful, cruel, and unnecessary" research on animals could have been allocated toward clinical research, which is more focused and efficient.

"Extremely important medications, such as Aspirin and Digitalis, were discovered without the use of animal experimentation," he said.

Animal rights supporters reject the claim made by animal testing advocates that products must first be tested on animals for safety purposes.

Feigin said researchers can get a better indication regarding products and medications safety by examining human cell cultures and utilizing advanced computer and simulator technology.

"In England during the '80s, a drug treatment for inhalation killed 3,500 children, after being successfully tested on dozens of animals," he said. "Anyone who trusts animal experimentation and then wants to use the product that was tested on my children, or on any other children, is a dangerous person."