A shocking animation film has been put up on the internet in Holland, advertising a party whose theme was the Auschwitz Nazi death camp.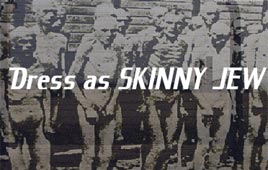 The film was created by a 22-year-old economics student, and was released on the internet on May 4, the Dutch World War Two memorial day.

The name of the party, 'housewitz' was meant as a sickening pun combining the name of the concentration camp with house music.

The party's theme – "dance sets you free" – is an attempt to play on the Nazi slogan of "work sets you free," which was written on the gate to Auschwitz.

In order to watch the film please follow this link. At one point the video was temporarily unavailable, apparently a result of heavy traffic.

The film begins with a scene of the electric fence that surrounded the concentration camp, against the backdrop of trumpets and repetitive chants of "zieg heil."

Later, the names of the artists who appeared at the party came on the screen, against the background of photographs of SS officers.

The film says that revelers will "light themselves on fire… literally… ha ha," and goes on to say that the desired image for guests is a "skinny Jews" look, while photographs from the Holocaust showing starving Jews in concentration camps appeared in the background.

'it was a joke'

The film's accompanying announcer, a female voice, says that party goers will get free entrance – while images of the cramped sleeping bunkers in Auschwitz flashed in the background. A perverted attempt to create a sexual hint in the film was behind the images of stacks of naked corpses of murdered people at Auschwitz.

The announcer promises free hot showers, with images of gas chambers appearing in the background, and trains directly to the party site (the final destination) are offered, with photos of Holocaust era trains which took Jews to the concentration camps.

Following the film, it was reported that the Dutch Office set up to combat racism on the internet (MDI) was inundated with complaints. The office shut down the film on three sites, while the film's maker apologized for his "work," which he claimed was a "joke."

The Foreign Ministry in Jerusalem has said that it was not aware of the film.