Settlers riot
Photo: Reuters

Forces at Neve Dekalim
Photo: Reuters

Morning prayer session
Photo: Efrat Weiss

Roads blocked
Photo: Efrat Weiss
Settlers say 'No' to notices
Residents of some settlements prevent security forces from serving eviction notices. Army officials: It's the settlers' loss, we could have offered assistance. Defense Minister Mofaz: We don't plan to clash with settlers. However, security officials admit distribution of notices also meant to allow troops to collect intelligence information
(VIDEO) By Monday afternoon, it became clear the IDF was giving up on its intention to serve eviction notices at several communities slated for evacuation, while in other settlements only some notices were served.
The failure to serve all notices could mean the army lacks information ahead of the actual evacuation operation, set to begin Wednesday.
Settler defiance in Morag
Earlier Monday, security officials reached a compromise with settlers in Gush Katif's largest settlement, Neve Dekalim, after residents refused to be served the evacuation notices. The army has agreed to refrain from entering the community, while the settlers promised to clear the access road to the community, which they blocked earlier.
Later, Neve Dekalim residents allowed moving trucks to enter the settlement, after hundreds of youngsters refused to let them through initially. Settlement leaders pressed the youth to disperse and accept the wishes of those families who wish to leave.
Police enter through industrial zone
The morning started with a tense face-off in Neve Dekalim, as security forces faced hundreds of residents, who decided to close the gate to the community.
Police officers were eventually able to enter the largest Gush Katif community through the settlement's industrial zone, while troops and hundreds of residents face off at the community's entry gate.
The forces arrived in the community in order to hand out evacuation notices. Hundreds of youngsters were dispatched to the scene in the meantime and are burning tires and attempting to block forces from reaching settler homes.
The troops at the scene were led by IDF Southern Command Head Dan Harel and Southern District Police Commander Uri Bar-Lev.
Confrontation in Neve Dekalim (Photo: AP)
Residents slammed the police move, saying it was "an unfair step," and adding it is "unacceptable for soldiers to use diversionary tactics."
Earlier, local officials convened a meeting in Neve Dekalim in order to take decisions regarding the next moves. Among other questions, settler officials decided they are not interested in receiving the evacuation notices inside the community. Security officials pledged that they would not enter the settlement with the notices if they are unwelcome, the officials said.
'We'll act slowly'
IDF sources told Ynet that despite confrontation in Neve Dekalim and an attempt by residents to harm IDF and police vehicles trying to enter the settlement, the army intends to act against those who demonstrate disorderly conduct.
"We will act slowly and cautiously, we are not in a hurry to go anywhere, however we cannot accept disorderly conduct," he said.
Earlier, Settlers in Morag, Netzer Hazani, Gadid, and Gan-Or also blocked the entry gates to their communities. However,security forces were able to distribute evacuation notices in the northern Gaza community of Nisant.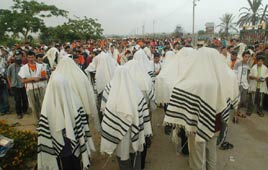 Gush Katif residents blocked the entry to their settlements Monday morning in a bid to prevent the IDF from distributing evacuation orders informing settlers to vacate their homes within 48 hours. Meanwhile, pullout foes disrupted security convoy traffic at Gaza's Kissufim junction and at the Yad Mordechai junction in the south, with heavy traffic jams reported in the area.

Scenes from Gaza (Video: Yaron Brenner)

Teams of four - made up of police and IDF troops - and equipped with a notice signed by IDF Southern Command Head Dan Harel, were expected to begin knocking on the residents' doors at 8 a.m.

Each team will approach a home in a bid to convince the family to leave their settlement, as well as offer them assistance in moving.

Should families refuse to open their doors; the order signed by Harel will be hung on their front door.

The official evacuation is set to begin Wednesday morning.

Last moment decision

In a last moment decision, officials decided to refrain from handing out evacuation notices to families in some Gaza communities. In Atzmona, Kfar Darom, Netzarim, Katif, and Neve Dekalim, where strong anti-pullout resistance is expected, as well as in the northern Gaza settlement of Dugit, the notices will be handed out in bulk to local officials.

In those communities, soldiers will not go door to door, due to fears that settlers will attempt to close entry gates to the communities.

Starting at 3 a.m. Monday, teams of officers prepared for the beginning of operation "Brotherly Hand." The operation was supposed to open with officers knocking on settlers' doors and handing out evacuation notices, but once media crews arrived at six Gush Katif communities around 6 a.m., it turned out the entrance to most of them is blocked by dozens of youngsters dispatched in advance.

In Neve Dekalim, Gush Katif's "capital," residents blocked the main road connecting all area communities using various means, including tires and garbage containers. Once the first convoy approached the community, settlers began gathering near the entry gate, but as it turned out it was a journalist convoy and not security forces arriving with evacuation notices.

Meanwhile, residents closed the entry gate and held a prayer session at the site.

As media crews from around the world watched, settlers began dancing and singing. In the settlement of Shirat HaYam, where illegal infiltrators have been staying in a hastily constructed tent city, the media was prevented from entering the community, despite earlier promises.

In the settlement of Morag, about 20 young infiltrators blocked the entry gate as well. Overall, there are about 400 infiltrators in the community, as well as 42 families. Sixteen families have announced they intend to evacuate voluntarily Monday evening.

Meanwhile, hundreds of Gush Katif residents who are unwilling to experience the evacuation continued to stream out of the area.

-Hanan Greenberg, Efrat Weiss, Avi Cohen, Ronny Sofer, Aya Ben-Amos, and Ahiya Raved contributed to the story