Emuna Sachar following attempted kidnapping
Photo: Haim Tzach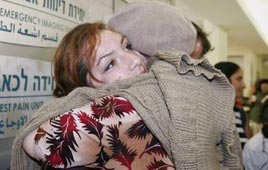 Shachar meets her mother in hospital
Photo: Haim Tzach

Hadas Man
Photo: Ofer Amram
Two Israeli teenage girls escaped a kidnapping attempt Thursday at a hitchhiking post located at the Rahelim Junction in Samaria.
An initial investigation carried out by the IDF revealed that three Palestinians from Jenin arrived by car to the bus station and tried forcing the girls into the car at gunpoint.
The two resisted and one of the girls, 15-year-old Emuna Shachar of Jerusalem, sustained light injuries as a result. The gunmen were apprehended following a pursuit carried out by IDF forces.
Emuna Shachar and her mother at Saare Zedek Medical Center in J'lem (Photo: Haim Tzach)
At about 3:00 p.m. Shachar phoned the Samaria District and reported that her 14-year-old friend Hadas Man, a resident of the Beit El settlement, had been kidnapped from the Rahelim Junction after being forced into a car; later police learned that both teens managed to escape the kidnapping attempt.
The three Palestinians, all armed, were arrested soon after and transferred for questioning by the Samaria police.
"I ran to the bushes and hid myself. I played dead so they don't see me. I came out of the bushes and stopped a car. I screamed 'They kidnapped my friend' and reported the incident by phone," Hadas told Ynet.
Initial details reveal that the two girls were standing at the junction trying to hitch a ride to Jerusalem when a Palestinian vehicle slowly approached them. Three Palestinians came out of the car and tried to force one of the girls inside.
'I was sure I was going to die'
The injured girl was picked up by an army jeep that arrived at the scene, thinking that her friend had been kidnapped by the Palestinian gunmen. The jeep proceeded to chase after the Palestinian car, a white Chevrolet, as army checkpoints were being set up in the area.
Kidnapping attempt suspect in Ariel police station (Photo: Ofer Amram)
The car was eventually stopped and the gunmen were apprehended near the Eli settlement.
Security forces dispatched to the scene soon learned that the other teenage girl also managed to escape unharmed. The injured teen was evacuated to the Shaare Zedek Medical Center in Jerusalem.
The security establishment has received warnings regarding possible attempts to kidnap Israeli citizens.
One of the teens, Emuna Shachar, said following the incident "I yelled 'Shema Yisrael'; I was sure I was going to die any second."
"We sat in a hitchhiking post and saw a car approaching, but when we realized they were Arabs we sat down again. An Arab man came out of the car with a gun and aimed it at us. We tried to run away, and I ended up on the ground while one of them started beating me up until a Border Guard jeep showed up," she said.
"Suddenly he let me go, and I didn't understand why. I saw a military jeep. I ran toward it and I was picked up."
Asked if she would hitchhike in the future she answered: "I don't know about the future."
Her father Shimon said: "What happened is a miracle. What our leaders can't do, he in the havens can. They are protecting their posts instead of carrying for people here."
Binyamin Brigade Commander Colonel Amir Abulafia, told Ynet: "We received a report of a kidnapping attempt. Someone reported that they kidnapped her friend. Immediately, we started closing roads…the Nahal company commander identified suspicious activities by the roadside. He identified a teenager struggling with Palestinians near a car carrying Palestinian license plates. He headed straight toward her and the car traveled south."