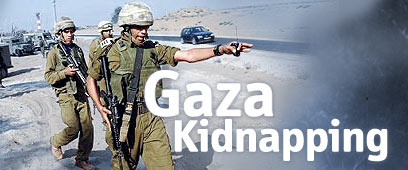 Kidnapped soldier Gilad Shalit
Photo: Noam Rotem

Committee's meeting
Photo: Gil Yohanan
A senior military intelligence officer, addressing the Knesset's Foreign Affairs and Defense Committee, said that the IDF has information pointing to the area where the kidnapped soldier, Gilad Shalit, is apparently being held.

The senior officer said the kidnappers had planned the operation for over two months.

According to the officer, Shalit sustained light injuries to his shoulder and abdomen during the raid.

He also noted that Hamas' politburo chief Khaled Mashaal, who is currently in Damascus, was holding contacts with the kidnappers and with the head of the organization's military wing, Ahmed Jaabari, who is considered to be the man behind the abduction.

The committee's members asked the officer whether Israel has any information regarding the outcome of the meeting between Palestinian President Mahmoud Abbas and Prime Minister Ismail Haniyeh, held Monday night. He replied that Israel defines the meeting as positive, but that "Haniyeh is limited in his actions, because the significant decisions are taken in Damascus by Khaled Mashaal."

Speaking about the details of Sunday's attack, the officer said: "An explosion at the watchtower, caused during the terrorist's infiltration attempt, resulted in a malfunction to the soldiers' electronic alert system, and as a result - one of the terror cells operating in the area could not be identified."