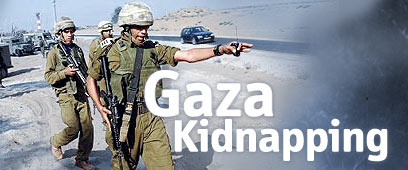 Khaled Mashaal
Photo: Reuters

Deputy PM Shimon Peres
Photo: Uriel Herschko
Deputy Prime Minister Shimon Peres visited the Shalit family on Tuesday in their home in Mitzpeh Hila in the western Galilee region. Peres updated the family with the latest news related to the government's efforts to ensure Gilad's safe return.

Upon his departure, Peres pointed an accusing finger at the individual who, in his opinion, stands behind the kidnapping. "Commands regarding this event came from Syria, the current residence of a man determined to stand in the way of peace. We are well aware that Syria is providing refuge to someone who wants to create victims and destroy prospects for peace. I am referring to Khaled Mashaal - the man who, most likely, gave the order for the kidnap and is preventing the soldier's release; Syria is housing him openly."

He added that the central aim of Israel's policy in this matter is Gilad's fast and safe release, using joint political, defense and military means. "We have asked all nations who contribute financially in Gaza, Judea and Samaria to withhold transferring funds prior to the soldier's release. We have asked these nations to utilize political pressure, which Egypt has certainly done and which Abu Mazen (Palestinian President Mahmoud Abbas) is trying to do. On our part, we will use all means at our disposal, within reason of course, until Gilad is returned home."

Following his visit, Peres described the family as very realistic. He added, "The state of Israel is discovered here in her glory, the whole nation as one family, part of the Shalit family. We cannot be exactly like them, but we can be with them as we need to be."

Defense Minister Amir Peretz also visited the family in their home and told them of his meeting with Gilad's friends from the unit in Kerem Shalom. "I recommend demonstrating complete restraint in any actions taken to undertake Gilad's release." Peretz also said the state of Israel and the IDF are of proud of the Shalit family's strength under the circumstances and informed us that they are coping.