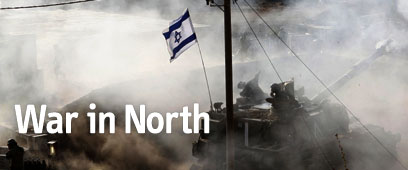 'Fundamental blame falls again on US empire.' Chavez
Photo: Reuters

IDF attack on Lebanon bridge
Photo: Reuters
Venezuelan President Hugo Chavez said Friday that American support of Israel is responsible for flaming tensions in the Middle East.
Israel launched its attack on Lebanon after Hizbullah carried out a brazen cross-border raid Wednesday, capturing two soldiers.
"The fundamental blame falls again on the US empire. It's the empire that armed and supported the abuses of the Israeli elite, which has invaded, abused and defied the United Nations for a long time," Chavez said.
The Venezuelan president said Israel was using excessive force — destroying critical civilian infrastructure and killing and injuring civilians.
An ally of Cuba's Fidel Castro, Chavez frequently lashes out at President Bush and US policy.
"The US empire's desire to dominate has no limits and that could take this world to a real Holocaust," Chavez said.