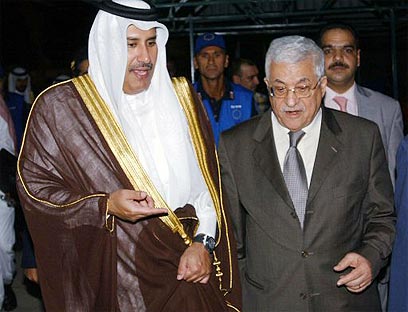 President Abbas with Qatari FM, Hamas
Photo: AFP

PM Haniyeh with Hamad
Photo: AP
Mediation efforts by Qatar's foreign minister failed to resolve a stalemate between rival Palestinian leaders that has prevented the formation of a unity government, a senior Palestinian official said on Tuesday.

The impasse has triggered the worst internal fighting in over a decade as the Hamas-led Palestinian government of Prime Minister Ismail Haniyeh became embroiled in a bitter power struggle with President Mahmoud Abbas of the once-dominant Fatah faction.

"The differences on the core issues have remained ... In the light of tonight's talks it does not seem as if we are closer to an agreement," senior Abbas aide Yasser Abed Rabbo said.

Starting Point

Palestinian president and prime minister meet following last weeks riots between Fatah, Hamas that left 13 dead

The key obstacles to the formation of a unity government have been Hamas' refusal to participate in any administration that recognizes Israel and to renounce armed struggle against the Jewish state.

Abbas held two meetings with Qatari Foreign Minister Sheikh Hamad bin Jassim bin Jabr al-Thani on Monday night, the second of which spilled over into the early hours of Tuesday morning.

Sheikh Hamad held back-to-back talks with Abbas and Haniyeh in the Gaza Strip after meeting earlier in the day with Hamas leader Khaled Mashaal in Damascus.

According to Abed Rabbo, the talks failed because Hamas continued to refuse to recognize Israel and to accept previously signed agreements with it. "We will continue the dialogue over these points but no agenda for a unity government can succeed unless these points are resolved," he said.

Abbas said the Qatari mediation effort would continue but Sheikh Hamad left the coastal territory early on Tuesday and it was not clear if or when he would return.

Failure may mean early elections

Abed Rabbo warned that failure of the Qatari mediation would probably force early Palestinian elections. "This initiative is the last political effort that is being exerted and the opportunity must be seized because the alternative is to hold early elections," he said.

Palestinian politicians said the Qatari proposals included forming a government of so-called technocrats and convening a meeting between Abbas and Mashaal, whose Hamas movement won Palestinian elections in January.

Abbas aides said Meshaal provided Sheikh Hamad with a counter-proposal by Hamas, the details of which were not disclosed. "Abbas was furious and rejected the Hamas paper," a senior Abbas aide said.

Hamas officials say any agreement has to be based on an amended version of the "Prisoners' Document", penned by Palestinians in Israeli jails, that Hamas agreed to in June and which calls for negotiations with Israel if the state withdraws from land captured in 1967, resistance focused on peaceful means and a unity government.

Hamas, which rejected suggestions at the time that the deal implied it accepted Israel's existence, says recognition and any end to armed struggle would be futile as long as Israel refuses to withdraw from the disputed territories.