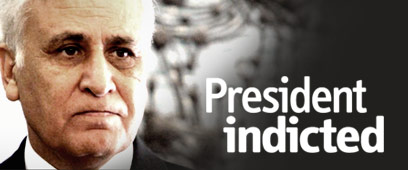 MK Shelly Yacimovich
Photo: Amir Cohen

MK Zevulun Orlev
Photo: Gil Yochanan

MK Yossi Beilin
Photo: Eli Elgarat

MK Zahava Gal-On
Photo: Gil Yohanan

MK Itshac Galantee
Photo: Gil Yohanan
Officials from both ends of the political spectrum called on President Moshe Katsav to resign immediately, following Attorney General Menachem Mazuz's decision on Tuesday to charge him with a series of sexual offences, including rape.
Rape Charge
Attorney General Mazuz decides to file indictment Tuesday afternoon against president
Labor MK Shelly Yacimovich, who has repeatedly censured Katsav since the beginning of the affair, called the indictment filed against Katsav "extremely serious." She urged the Knesset to oust the president immediately.
"The Knesset must remember the president's victims who were the target of heinous slander throughout the past months...This should prove a sign for any complainant that she should not be afraid," she said.
MK Zevulun Orlev (National Union-NRP) called Tuesday a "sad day for Israel and its citizens, as well as for the institution of the presidency."
"I hope that the president will know to put the interests of the institution of the presidency first by resigning, as is befitting of his role as a representative," said Orlev.
MK Menahem Ben-Sasson (Kadima), who heads the Knesset Constitution, Law and Justice Committee, expressed his support for the law enforcement bodies for handling the investigation in an "unbiased manner." Ben-Sasson also expressed his appreciation of Attorney General Menachem Mazuz who filed a "brave" indictment. Ben-Sasson said that the case proved that "even the number one citizen isn't above the law. I call on the president to reconsider the continuation of his term."
Meretz: 'If he doesn't leave, we'll impeach him'
Meretz Party leader Yossi Beilin also urged Katsav to resign in order to "save the institution of the presidency."
"The damage that has been done to this institution over the last few months is so great that only his immediate resignation can assist the institution's immediate recovery," Beilin said, adding that if Katsav did not resign on his own Meretz would lead a motion to impeach him.
Meretz faction Chairman Zahava Gal-On said: "The Attorney-General's decision is courageous and will put an end to the slanderous campaign that he and his contacts in the underworld waged against the complainant."
MK Itshac Galantee (Gil) announced that following the indictment he would consider renewing the proposed bill that would allow the Knesset House Committee to declare the president temporarily suspended. This initiative was raised during the first days of the affair but never passed the legislative process.
Attorney Talia Livni, chairman of the woman's rights organization Na'amat, also called on Katsav to resign, thereby ending "the debasement of the honor of the institution of the presidency and preserving the honor of the citizens of the state of Israel."