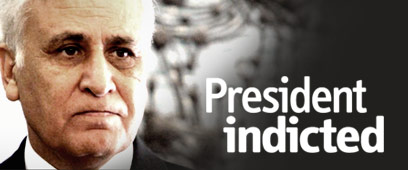 Education Minister Yuli Tamir
Photo: Niv Calderon

President Katsav
Photo: Hagai Aharon
President Moshe Katsav may not have left the presidency yet, but he may be coming down from public school walls. Education Minister Yuli Tamir told Ynet that she was thinking of removing pictures of the president customarily placed in educational institutions across the country.

"As long as the president is suspended, having his pictures hanging at every school is unrealistic. The ministry is currently debating the issue," she said.

Tamir called on Katsav to resign immediately following Attorney General Menachem Mazuz's decision on Tuesday to indict him, in order to spare students' embarrassment.

"The current situation makes it impossible to educate students to respect the office of the president," she said.

According to Tamir, "It's an uncomfortable situation. Students are asking 'what is rape?' and it's the job of the education system to provide them with answers."

Providing answers

Tamir and Ministry Director-General Shmuel Abuav have instructed schools to discuss the rape charges levied against the president with their students. Ministry psychologists were told to provide educators with lesson plans on the topic.

"This is a very sensitive affair. It's the first time a president has been faced with such severe charges. The indictment, which contains sexual offenses, has stirred up the public," said Abuav. "As such, the education system is obligated to promote a dialogue with students regarding the issue."

The ministry recommended that teachers explain that the president, as the nation's number one citizen, needed to set a moral example and, therefore, the current indictment is harmful to the presidency as an institution.

Teachers were instructed to state that the indictment actually highlights the strength of Israeli democracy, since it illustrated that all citizens were held accountable for their deeds, regardless of their position, and showed Israel as a democracy that strives to improve itself.

Teachers were also told to remind students that, in Israel's legal system, a person is innocent until proven guilty.

The Education Ministry informed teachers that the affair has called up feelings of embarrassment, confusion, denial, distrust, anger, and fear among Israeli students.

Therefore, "it's our duty as an educational system to address the issue in order to help students understand and comprehend the new information. The dialogue needs to be coordinated with their cultural context," the ministry said.