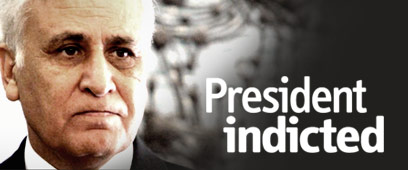 President Katsav during press conference
Photo: Reuters

Katsav with his wife Gila at start of press conference
Photo: Reuters
Prime Minister Ehud Olmert has called on President Moshe Katsav to leave the President's Residence.
Speaking at the Herzliya Conference Wednesday evening, Olmert said, "I cannot open my speech tonight without addressing the events of the past 24 hours and the attorney general's decision to conduct a hearing to the president, in light of the possibility of filing a severe indictment against him."
Poll
Eighty-nine percent say Katsav should immediately leave President's Residence following decision to indict him
"Under such circumstances, I have no doubt that the president cannot continue fulfilling his role and will have to leave the President's Residence. This is a sad day to for the State of Israel," Olmert said. His remarks were met with applause.
Earlier Wednesday, President Katsav angrily proclaimed his innocence against rape allegations and emotionally slammed the media and political echelons for leading a "brainwashing campaign against my good name."
Katsav promised to resign without delay only if the attorney general decides to file an indictment against him for rape or sexual harassment charges.
"I have tired of this hunting expedition against me. I yield my immunity so an indictment can be filed against me, but the law does not demand I resign, and the attorney general is not demanding that I resign," Katsav said at special press conference at his Jerusalem residence.
"For six months, my family and I have faced an unprecedented assault – with despicable information sullying my honor, using false information which has reached every home in Israel, ruining my name and describing me as a rapist," Katsav said.
"Despite the pressures and humiliation, I respected the law for the past six months. I refrained from bringing forward my version of events, I have refrained from speaking out in order to not pervert the course of the investigation," he added.
"In these most difficult days, I don't plan lower my head. I'll fight with all my soul. Even if there is a need for a world war to prove my innocence. I'll fight to clear my name," a furious president vowed.
President talks (Photo: AFP)
On the verge of tears, Katsav added, "My family stands by my side. As time passes, each and every one of you, citizens of Israel, will learn of the size of the injustice that took place. Citizens of Israel, don't believe these lies, these libels, this frame-up."
"There is only one truth: I am the subject of an attack that the worst elements of moral society can absorb… I assume you also, Israeli citizens have been pained, as well as Jews around the world by these reports. In recent months, there has been brain washing like never before. Decision makers also surrendered to the media lynch. You heard, every evening, every hour, for six months, details on the terrible acts by the president of Israel."
'Police working hand-in-hand with media'
Katsav furiously censured the media for unjustly "issuing a verdict" against him.
"I survived because the truth is on my side. In the court of the media, there is no need for evidence, facts or proof," he said. "The media's verdict was issued and implemented before I could give my side. There is no evidence or proof of the vicious allegations against me.
"When the truth is made known, the citizens of Israel will be in shock," he said. "I wouldn't dare risk making such a decisive statement if I didn't know the truth – which you don't know."
He accused the police of working hand-in-hand with the media to ensure his downfall. "The police did everything to spoil evidence in my favor," he charged.
The president argued that there was absolutely no evidence to back the accusations, before returning to attack the press. "The media pressure has been hard to bear every day. In 2007, every person can go to police to make libelous claims, out of vengeance or another motive, an they will receive a headline to frame their victim. This happened to me, it could happen to anyone."
"I bit my lip. I didn't understand how such terrible allegations could be made without asking for my reaction. You didn't let the facts confuse your aims. Your sense of justice, of truth, have been overridden. You didn't stop for a minute to ask, maybe this is after all, a libel. None of you looked directly at the simple facts. None of you made a single investigation into the claims. Not a single newspaper, TV station, radio station investigated the claims. You crossed every ethnical journalist line," Katsav said.
He added: "I know what hurts you. You wrote when I was elected as president, that this is the end of Zionism."
Katsav hugs his wife following speech (Photo: AP)
Citing media comparisons between his election and the murder of late Prime Minister Yitzhak Rabin, Katsav said: "Do you comprehend, citizens of Israel, how they can compare this (my election) with the murder of a prime minister?' With deep pain, my family has been forced to hear accusations which have no link to reality. When the truth comes out, citizens of Israel, you will be in shock."
The president also lashed out at "an elitist clique," saying: "I saw myself as a symbol of all those who don't belong to the same clique, elite, rich, closed to others. And only they have right to represent Israel. I managed through citizens of Israel. I don't understand, I can't understand, from where this hatred comes from, of the media. To my great sorrow, I couldn't stop the desires of revenge and anger by people who worked next to me for many years. Revenge by people fired by me or who didn't get what they wanted from me, turned into an indictment against me."
'I won't resign'
"Believe me citizens of Israel, its comfortable for me to resign. I'm tired, what's the point of continuing. I've given up immunity… But the law doesn't demand I resign. The attorney general doesn't demand that I resign. I am not willing to surrender to blackmail, to lies. I know the truth. I know what I wasn't asked in investigations. The proof is on my side. The truth is on my side. If the attorney general decides to indict me, and he has not yet decided, I will resign without delay."
"One of the biggest dangers is the cooperation between the media and the police. Even in a totalitarian regime, the media is the defender of basic rights… In a democratic country, when the police and media cooperate with one another, and trample on the rights of people, natural justice disappears completely. Where are the 'do gooders'? Why do they not raise their voices against this injustice?"
Earlier, Katsav's attorneys appealed to Knesset Speaker Dalia Itzik, asking that he be granted a temporary suspension.
According to Israeli law, the president can proclaim an inability to fulfill his duty and ask to receive a three-month leave of absence. The authority to approve such a request lies with the Knesset House Committee.
If a temporary suspension is granted in this case, Katsav's political immunity would remain protected, thus delaying his indictment.