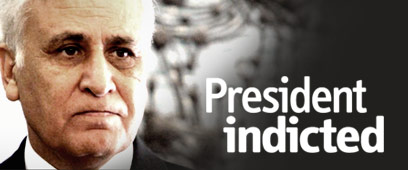 Acting President Dalia Itzik
Photo: Dudi Vaaknin

President Moshe Katsav
Photo: Haim Zach
Knesset Speaker and Acting President Dalia Itzik said on Thursday that the role she has assumed was given to her '"solely for safekeeping and trust."
Itzik told a press conference that she would fulfill her duties as acting president but no more than that, squashing rumors that she planned to run in the upcoming presidential election.
"I am aware of the weighty responsibility which I am to shoulder," Itzik said in a press conference on Thursday.
Itzik will now assume the responsibilities of President Moshe Katsav as acting president after the Knesset authorized Katsav's request to temporarily suspend him.
"The presidency is going through a difficult time and for all of us, this is a moment of truth. I will do everything to fulfill my duties in the best possible manner and pray that my talent and experience will come through," said Itzik.
"We have a wonderful country," Itzik added. "It has good people and good deeds, and although a cloud is hovering over our skies, clouds have a habit of going away, and the days of hope and fame will return to us."
Itzik expressed her trust in Israel's legal authorities. "I am certain that a trial of truth and justice will quickly take place. Simultaneously, I continue to serve as Knesset speaker. This mission has not ended.
"I enjoy being Knesset speaker and I proudly hold this post," she added.
Meanwhile, Attorney General Menachem Mazuz pledged to end all legal proceedings against President Moshe Katsav within a three-month timeframe.