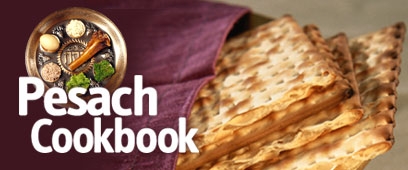 "If they do not have bread - let them eat cake". If this royal statement had not been attributed to the unfortunate Marie Antoinette and destroyed her public relations for generations, you could have entered it into the Jewish mother's book of commandments for Passover.

The main difficulties with this holiday's foods are not centered in the realm of the gefilte fish, the chreime, the roast or the cooked vegetables. It occurs on the minefield of the desserts - cookies and cakes without chametz.

For a week, bread is exchanged for matzo. The savory pastries, such as quiches, can be skipped for a while or you can make some slight substitutions. But with cookies and cakes for Passover you have to overcome the absence of the most basic and important ingredient in baking - flour. This is also the reason why so much imagination and creativity have been invested in this department, which has led to an accumulated knowledge passed from mother to daughter.

And whoever holds by the saying "If there is no flour - there is no Torah" can expect a clash with generations of Jewish mothers, who can teach you a lesson in baking.

You will not find an ethnic group or family that does not have their own special Passover cake recipes. The desire to vary the repertoire and to surprise in unexpected places resumes every year. The collection of recipes found here is meant to satisfy this need. We took into account those who are very stringent, beginning bakers, and those who have little time.

Almost all of the cakes and cookies do not require special utensils or appliances. Most of them will suffice with just a bowl, a mixing spoon, and a pan (you can even use disposable). Some of them require the beating of cream or egg whites - in which case you will need a beater, preferably an electric one (which today can be purchased inexpensively). They are so easy to prepare and so tasty that we are sure that you will continue to enjoy them even after Passover.