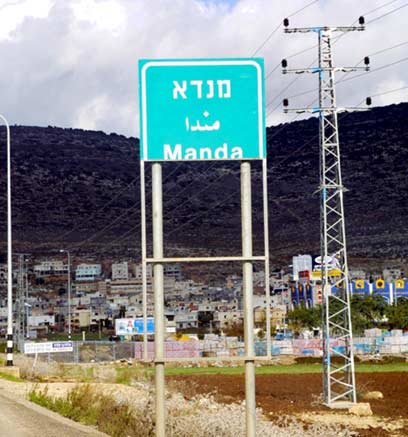 Kfar Manda
Photo: Yariv Katz

Ahmad Muhammad Khatib
Photo courtesy of al-Hadith newspaper
"I don't believe that this organization really exists or that the guy belonged to it," Muhammad Zidan of Kfar Manda said Monday morning, after an Israeli Arab group, 'The Free People of the Galilee' claimed that one of its members was responsible for the shooting incident in Jerusalem's Old City on Friday.

Zidan, who served for many years as head of the Kfar Manda local council and as chairman of the Higher Arab Monitoring Committee, expressed the feelings of many residents who had voiced their doubts regarding the reliability of the organization's statement.

Family Talks

Mahmoud Khatib asks for neutral investigation during memorial service; Sheikh Raad Salah calls shooter shahid

Zidan, an acquaintance of the family of the terrorist, Ahmad Mahmoud Khatib, says that he accepts the family's version of the events, according to which Khatib did not attempt to snatch the security guard's weapon.

He adds, however, that "even if the police's version is correct and the guy really did what is attributed to him, I believe he acted on his own. He was so tight-lipped and introspective that I find it hard to believe that he belonged to any organization.

"Apart from that, this is the moment when all organizations of this kind claim responsibility for what they view as an act of bravery. This is a paradox. All the Palestinian organizations also claimed responsibility for the incident."

After a tense weekend in Kfar Manda, life in the village is returning to normal. The stores opened on Monday and most of the flags and pictures were removed. Khatib's family members continued to receive visitors at their mourning tent.

"We went through a few tense days because of the incident," says Zidan. "People didn't know what happened, there was uncertainty. Yesterday a very emotionally charged funeral was held, but now life is returning to normal.

Image is everything

Kfar Manda residents said Monday morning that most of them disagreed with Khatib's actions and even boycotted his funeral on Sunday.

"Almost 18,000 residents live in Kfar Manda. How many attended the funeral? About 1,000, and many of them don't even live here," said a young resident of the village.

"If anyone had identified with the acts you would see thousands. The problem is that this was not shown on the media, and the feeling is that what this guy did represents the entire village."

Following Friday's incident, as well as the killing of another Kfar Manda resident, Muhammad Khatib who was involved in the kidnapping and murder of IDF soldier Oleg Shaichat, residents said they feared their community would be perceived as a radical village.

"I have a real problem now. If I say I am from Kfar Manda, everyone will say, 'Ah, the terrorists' village,'" one of the residents said.

Another young man, who works outside the village, added, "It is clear to me that many Israelis will now link Kfar Manda to radical people. I hope this won't hurt us. There are also many Jews who come to the village on weekends to shop, go to restaurants and make arrangements.

"This Saturday the incident was not published yet, but I don't know what will happen next Saturday. However, I find it hard to believe that it will be like after the October 2000 events. Then the Jews didn't come for a long time, but that was a bigger and more serious event. This is an incident of one person, a radical."

Addressing the fear that the village's image would be hurt, Zidan concludes, "There were incidents of one person, or two radical people. Does this indicate that everyone is like them?

"In Kfar Manda there are 18,000 people, and one cannot say that they are all extreme. There are also radicals among the Jews, and they don't say that everyone is like that. We must learn to live together, and the media has an important part in educating the people to cooperate."