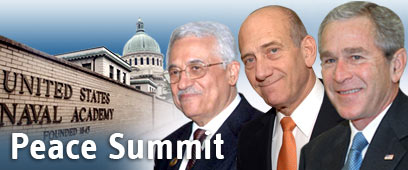 Rabbi Yosef
Photo: Israel Bardugo
Yosef: Shas will quit government if J'lem divided
Spiritual leader of Shas Rabbi Ovadia Yosef tells Jewish religious leaders that arrive to his home that party will leave coalition after any decision is made to partition Jerusalem. Rabbis say Shas must leave government. Yishai: Those who relinquish control over periphery neighborhoods put Hamas in Jerusalem's heart
A delegation of rabbis arrived at the residence of Shas spiritual leader Rabbi Ovadia Yosef Monday night in order to request that he instruct the religious party to quit the coalition because of its participation in

Right Rallies

Right-wing Knesset members, settler leaders launch unflinching assault on Prime Minister Olmert on eve of Annapolis summit. MK Hendel: Never before has a prime minister been so dangerous to the people of Israel

the Annapolis peace summit.

Rabbi Yosef sought to put the rabbis at ease and told them that "if there is a decision to split Jerusalem—I will instruct Shas to withdraw from the coalition".

The meeting was attended by very prominent rabbis including the Rabbi of Jerusalem's Old City, Rabbi Avigdor Nibenzal, the rabbi of Rehovot, Simcha Hacohen Cook and the rabbi of the Temple Institute, Rabbi Israel Ariel.
'Hamas in Jerusalem's heart'
The meeting was held after some of the rabbis met last week with Rabbi Chaim Cohen, also known as the "milkman," considered one of most respected rabbis in the haredi sector. The rabbis arrived at Cohen's house in Tel Aviv in order to get his opinion on Shas staying in the coalition.

According to a source from the ultra-orthodox community who was present at the meeting, "the milkman" announced that Shas must withdraw from the government immediately.

"We are dealing with an issue of 'saving a life' in Jewish law. If Shas was not in the government every part of the Annapolis peace conference process and the discussions surrounding it about concessions on Jerusalem would not have happened," he told the assembled rabbis.

Following the meeting with the renowned rabbi, the Jewish leaders decided to make an appointment to sit down with Rabbi Yosef.

Shas chairman Eli Yishai clarified to Ynet in recent weeks that "Jerusalem is above all political considerations. I will not help enable concessions on Jerusalem."

"He who gives up control over neighborhoods on the outskirts is allowing Hamas to enter into Jerusalem's heart," he emphasized.