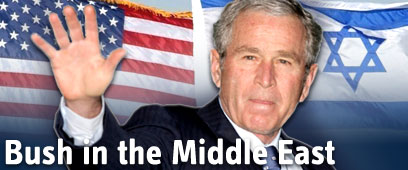 Bush with Olmert – 'A strong leader'
Photo: GPO

Dinner event at Olmert's residence
Photo: GPO

Protest rally in Jerusalem against Bush's visit
Photo: AP
Bush urges cabinet to keep Olmert in power
Three weeks ahead of final Winograd report – US President Bush praises Prime Minister Olmert as 'strong political leader' while pushing coalition leaders to safeguard his premiership. Bush asks for unscheduled private meeting with Olmert, receives letter from Shas leader pleading for release of Jonathan Pollard
Three scant weeks before the Winograd Commission issues its final report, Prime Minister Ehud Olmert received a noteworthy boost of support from visiting US President George W. Bush.
Israel Opposition
200 right-wing activists gather in Jerusalem to protest US president's visit, one detained. 'How would the American public react if Bush were to say after his inauguration that the US must cede Seattle and Manhattan?' SOS Israel head asks. 'A traitor,' demonstrators shout back
Olmert is "a strong political leader," said Bush at a dinner party with cabinet ministers, as well as Olmert and his wife Aliza. The US President called on Olmert's deputies and coalition leaders to safeguard Olmert so that he could continue to lead.
Deputy Prime Minister and Shas Chairman Eli Yishai, who attended the event, forwarded a letter from Shas spiritual leader the Rabbi Ovadia Yosef to Bush. Yosef asked the president to free jailed Israeli spy Jonathan Pollard.
Yosef's plea was sent along with a letter from Pollard's wife Esther, asking Bush to pardon her husband, who has been incarcerated for 22 years.
During the dinner Yishai said that Israel "must not make peace with only half of the Palestinian people. We saw what happened when we left Gaza, once we left Hamas came in. We must not accept a similar occurrence in the West Bank. Israel's security must not be compromised and Jerusalem must not be compromised.
"We seek peace, but we must not forfeit our security. The problem with Hamas is that their objective is to destroy Israel." The minister also noted the difficult situation in Sderot, the threat of al-Qaeda and the
Iranian threat.
During the event Bush also requested an unscheduled private meeting with Olmert to work out several pressing matters, the two held their tête-à-tête in Olmert's den at his Jerusalem residence.
Bush: End Israeli occupation
Bush notably hardened his tone towards Israel earlier in the day, urging an end to Israel's "occupation" of the West Bank.
"The establishment of the state of Palestine is long overdue. The Palestinian people deserve it… There should be an end to the occupation that began in 1967," Bush said. He had earlier met Palestinian President Mahmoud Abbas and visited Bethlehem, also in the West Bank.
Bush pressed the Palestinians to rein in attacks against Israel. He said any negotiations must also ensure Israel has "secure, recognised and defensible borders" alongside a "viable, contiguous, sovereign and independent" Palestine.
Challenging skeptics of his new push for peace on the first US presidential visit to Ramallah, he told a news conference with Abbas: "I believe it's going to happen, that there will be a signed peace treaty by the time I leave office."
Bush said he had urged Abbas and Olmert "to make sure their teams negotiate seriously, starting right now." He also reaffirmed a US commitment to the 2003 Road Map.
"On the Israeli side, that includes ending settlement expansion and removing unauthorised outposts. On the Palestinian side that includes confronting terrorists and dismantling terrorist infrastructure," the president said.
"Security is fundamental. No agreement and no Palestinian state will be born of terror. I reaffirm America's steadfast commitment to Israel's security."
News agencies contributed to this report