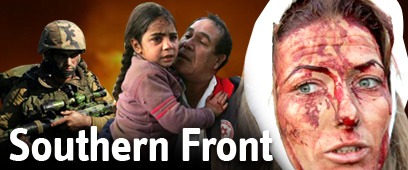 Strike in Gaza (Archive)
Photo: AFP
Three Palestinian civilians – among them a mother and her son – were killed in an IDF strike in northern Gaza on Thursday, according to Palestinian sources.
Gaza Violence
Several hours after barrage of 30 Qassam rockets hits southern communities, army fires missile at vehicle reportedly carrying Islamic Jihad gunmen, but accidentally kills three family members, including child. Military sources confirm missile accidentally hit civilians
Marim el-Rahel, her son Mansour and one other family member were riding in a donkey-drawn cart near Beit Lahia when they were hit by missiles fired from Israeli aircraft.
The IDF apparently launched the strike in an attempt to target Qassam rocket-launching cells but mistakenly hit the three family members.
Gaza was the scene of several IDF strikes on Thursday.
Earlier, the IDF struck another target near Beit Lahia killing two and wounding several others. Raad al-Ful, 43, one of the heads of production for the Salah a-Din Brigades, the military wing of the Popular Resistance Committees, and his wife were killed in the strike.
The heavy barrage of rockets continues to rain down on Sderot. Since Thursday morning, nearly 40 rockets have been fired from northern Gaza into the western Negev.
One of the rockets hit a school in Sderot causing some damage to cars parked nearby.
Hanan Greenberg contributed to this report