Dome of the Rock
Photo: Reuters

The Knesset covered with snow
Photo: Gil Yohanan

Wintry weather here to stay
Photo: Jeremy Hyman

Knocked over tree in Tel Aviv
Photo: Shiran Walk
The stormy weather lurking in Israel for the past few days is not going anywhere. Early Wednesday morning, snow showers began in Jerusalem and the mountains of the central and northern Israel leaving blankets of snow in certain areas.
By the morning hours, the capital was covered by a white blanket, with about 15 centimeters (5.9 inches) of snow.
In wake of the particularly brisk weather, school was cancelled in Jerusalem and the northern Golan Heights. Magen David Adom paramedics attended to 11 people who slipped on pavements across Jerusalem, suffering from fractured limbs.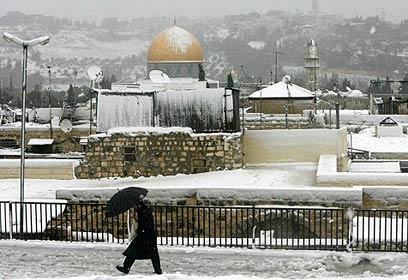 The Jerusalem municipality also announced that public transportation services would not operate on a normal schedule on Wednesday and universities and courthouses would be closed.
"This is the best gift I've received from Jerusalem before leaving," said Yair, 25, of Rehovot, a student who decided to halt his studies for one year following the long lecturers' strike.
Snow-clearing machines in Jerusalem (Photo: Gil Yohanan)
On Tuesday, the city administration tasked 100 snowplows and salt-distributing machines with clearing the main avenues of traffic in the event of snowfall.
Special preparations have been made in order to ensure the arrival of Winograd Commission members to Jerusalem in expectation of the release of the Commission's final report Wednesday afternoon.
Snow in Gush Etzion (Photo: Itzik Rosenberg)
In the Binyamin, Upper Galilee and Gush Etzion regional councils as well as in Safed, classes will be subject to disruptions because of the frosty weather.
Snow brings visitors
Tuesday night brought with it snow showers in northern Israel. In a number of places, up to an inch of snow was reported.
People flocking to north in wake of snowfall (Photo: Shuli Ankonina)
Guesthouse owners in the affected areas reported an increase in the number of reservations for the upcoming weekend.
Mt. Hermon, which was closed to visitors on Monday, reported 30 centimeters (11.8 inches) of snow over the night. On Tuesday, the mountain's upper cable car reported 80 centimeters (31.4 inches) of snow.
The site is currently closed to visitors however the mountain's administration hopes to open the ski slopes to the public for the first time this season this weekend.
In the Upper Galilee, between 30-50 millimeters (1.18-1.9 inches) of rain fell on Tuesday and replenished the brooks and creeks that flow into the Jordan river and from there into the Sea of Galilee.
Farmers in the north are particularly pleased with the recent precipitation as it will aid their crop yield in the spring.
Hagai Einav, Neta Sela, Tal Rabinovsky and Roi Mandel contributed to this report