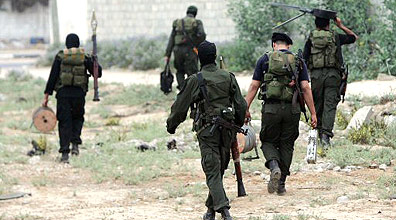 Hamas operative leaving stations
Hamas' Izz al-Din al-Qassam Brigades announced the onset of the Egyptian brokered ceasefire in Gaza on Thursday morning, warning that any Israeli violation of the truce would meet "a painful response."
The organization stressed that kidnapped IDF soldier Gilad Shalit "will not see the light of day before all of our courageous prisoners, held in the occupier's prisons will be released. We promise our prisoners, their families and our people that the matter of the prisoners will continue being out top priority," said Hamas in a statement.
Ceasefire
Fragile truce between Israel, Gaza Strip terror groups comes into effect in early hours of Thursday morning, following day of heavy rocket fire on western Negev, Sderot area. Both side reportedly watchful, wary
The group further said it hopes "the enemy will cease all forms of aggression, that it will open the crossings and life the siege."
The ceasefire between Israel and the Gaza Strip militant groups came into effect at 6:00 am Thursday morning. About half an hour before that, an IAF jet struck a Qassam cell in central Gaza. The ceasefire agreement calls for an absolute, binding truce on both sides.
The lull, said Hamas, is a Palestinian necessity, made to ease the suffering of the Strip's residents; strengthen the people's resilience and untie them. It is not to be perceived as "a free gift given to the enemy," stressed the group.
Should any of the ceasefire's terms be broken, Hamas would "deliver a strike so painful it will rock the Zionist entity… The enemy will be held responsible for any foolish act it will carry out. The resistance's reach will strike the enemy, no matter where it is, Allah willing," said Hamas.
The Izz al-Din al-Qassam Brigades further warned that they "will not allow Israel to betray our people. We will strike them down if they do so."
Only a handful of gunmen were spotted in Gaza's streets on Thursday morning, mainly manning observation points. Several have been seen leaving the posts and returning to their homes and bases.
A source in one of the Strip's militias told Ynet that "the resistance organizations are not kidding themselves. The Jews betrayed the prophets, they betrayed Mohammad and they betrayed Moses. They are not the kind of people you can trust. We will be watching their every move."
The "Israeli nature," added the source, is the reason the Gaza groups will keep training for another confrontation. "Is the Israeli army suspending its training because of the truce? Why should we? The bottom line is a confrontation is just a matter of time. It can be a day from now or a month from now. As far as we are concerted, giving the warriors a chance to rest and train is not a bad thing."