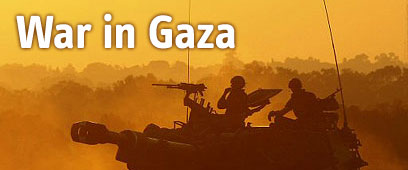 IDF troops in Gaza
Photo: IDF Spokesman's Unit
Operation Cast Lead's third phase has yet to be officially declared, but the military has reportedly begun incorporating some of its reserve forces in the fighting.

"We have begun embedding reserve forces – we will go in as far as we have to," IDF Spokesman Brigadier-General Avi Benayahu said Sunday.

Achievements

Is Hamas falling apart? Senior IDF officer says roughly 300 Hamas men killed since army launched ground incursion, entire Hamas battalions wiped out in dozens of clashes with troops over weekend; terror group also hit by wave of desertions, official says

Benayahu further said that Hamas was plundering the humanitarian aid convoys and operating against the "humanitarian corridor" implemented daily. Hamas' use of civilian population, he said, has reached "monstrous proportions."

Sunday saw defense establishment officials brief the cabinet on the progress of the Israeli offensive in Gaza. Both the IDF's head of intelligence and Shin Bet chief said there was ample reason to believe Hamas' capabilities have suffered a serious blow, but that it would probably still be able to mount harsh attacks on Israel.

"Hamas wants nothing more than to retaliate to the blow dealt to them and make up for the lack of operational achievements in the field… But on the other hand, they are in no hurry to wave a white flag," Director of Military Intelligence Major-General Amos Yadlin told the cabinet.

Prime Minister Ehud Olmert assured the ministers that despite the UN Security Council's decision on the Gaza offensive, Israel was not ready to back down: "Israel is fast approaching the goals set for the operation, but we need patience, determination and courage if we want to achieve those goals in a way that would change the security realities in the south… We cannot miss what such an unprecedented national effort has achieved."