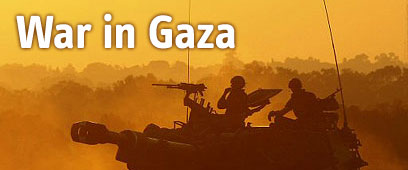 Grad rocket fired from Gaza
Photo: AFP
The rocket fire on Israel's south continued on the 17th day of Operation Cast Lead. A Grad rocket launched from the Gaza Strip directly hit an apartment building in Ashkelon late Monday morning. Since Monday morning some 20 rockets and a number of mortar shells landed in southern Israel.
War in South
Diplomatic efforts to end Gaza conflict intensify as Defense Ministry official says Cairo-brokered talks have undergone pivotal conceptual change; Egypt now fathoms dangers of Hamas. Palestinian sources warn of premature optimism
Emergency service teams treated five people who suffered from shock at the Ashkelon apartment building. The rocket exploded not far from a high school where students resumed lessons Monday.
After the attack, it was decided, in cooperation with the Home Front Command, to continue lessons in the bomb shelters. A number of parents arrived to pick up their children.
According to a number of school officials, attendance at the high school on Monday was low, with only about half of the students showing up.
One of the students told Ynet, "We heard the siren, my friends panicked. The teacher asked us to stay in our place, because we were already in the bomb shelter and there's no where to go. It was the end of the lesson and we waiting for the next lesson. Some wanted to leave and they asked us not to go outside.
"Its difficult to study like this without leaving the shelter. I was sure they would cancel the rest of the school day, but they told us that we were staying on until 2 pm. I hope they change their decision, because no one really has the head to continue studying. The rocket fell really close to where I live."
Rocket that fell in Ashkelon (photo: Avi Ohion, GPO)
Residents of the building that was hit ran for cover in the bomb shelter, and no one was injured. Lee, who witnessed the attack said, "I stopped the car immediately in front of the house when I heard the siren, I took my daughter out and entered the house next to the house that was hit.
"We hid in the staircase, because there's no bomb shelter there. Then we heard a very powerful blast, and I realized that the rocket exploded right next to us. Only when I went outside I saw that my car was hit, it was shattered to pieces and the house was seriously damaged.
"It was really just a matter of seconds from when I took the child out and managed to find shelter. I shiver at the thought of us being exposed to a rocket like that."
IDF incorporates reserves
At around 5:20 pm a rocket launched from Gaza landed in an open area in Beersheba, shortly after an alarm siren was heard in the city. No casualties were reported.

Prior to the attack two false alarms were hears in the city, which were being investigated by the homefront command.

At approximately 6:30 pm three Qassam rockets fired from northern Gaza landed in an open area in the Negev's Eshkol Regional Council. There were no reports of injuries or damage.

The latest barrage was launched toward Israel at around midnight, as two rockets landed in the Eshkol Regional Council in the western Negev.

The rockets landed in open areas and no casualties or damages were reported.

Monday morning saw a Grad rocket explode near the city of Kiryat Gat. No injuries or damage were reported in the attack.

Ophir Hadad from Kiryat Gat told Ynet: "There was a siren and 20 or 30 seconds later I heard an explosion very close by. It sounded as if it landed inside the city. This is the first time that I hear a boom here."

Later Monday two more rockets were launched at Gaza vicinity communities. One landed in Sha'ar Hanegev Regional Council and the second landed in Eshkol. Both landed in open areas and there were no reports of injury or damage.

Another rocket exploded in an open area in the Merchavim Regional Council, causing no injuries or damage. Two more rockets hit open areas in Sdot Negev and Eshkol regional councils. In between the two rocket attacks two mortar shells were also fired at Eshkol.

At around 12:45 pm a Color Red siren sounded in a number of southern communities, and a Grad rocket followed a few seconds later landing in Beersheba. No injuries or damage was caused. Two more rockets then exploded near Ofakim.

Shortly afterwards a barrage of four rockets hit Sderot, with one of them hitting an empty house.

Meanwhile, the IDF announced Monday that it would operate a "humanitarian corridor" into Gaza between 10 am and 1 pm. The Kerem Shalom and Karni crossings will be opened to allow the transfer of food supplies and medicine into the Strip.

On Sunday the military has begun incorporating some of its reserve forces in the fighting.

"We have begun embedding reserve forces – we will go in as far as we have to," IDF Spokesman Brigadier-General Avi Benayahu said.

Tova Dadon Hanan Greenberg and Ilana Curiel contributed to the report