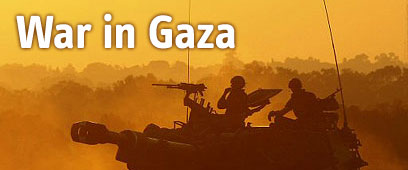 Iranian aid boat
Photo: AFP
Activists said Israeli warships forced a boat trying to deliver donated food and medical supplies to Gaza to return to Cyprus.
'Active Protest'
Free Gaza Movement sends 3.6 tons of aid to Gaza by sea, as 16 volunteers man ship heading for Strip. This is an active protest and a direct response to the situation, says group
Free Gaza Movement spokeswoman Mary Hughes-Thompson said Israeli naval vessels surrounded the 66-foot (20-meter) Spirit of Humanity early Thursday off southern Lebanon and threatened to open fire if the boat did not turn back.
Hughes-Thompson said the boat loaded with five tons of supplies and 21 passengers including 3 surgeons is expected to arrive at Larnaca port Thursday evening.
It is the second failed bid by the US-based group to try to reach Gaza since Israel launched its assault on the Palestinian territory late last month in response to rocket fire on Israel.
Free Gaza activist Angela Godfrey-Goldstein told Ynet, "this is a humanitarian journey and Israel must allow medical teams and journalists to enter. Physicians are allowed to enter Gaza through the Rafah crossing, so why are they being prevented to enter from the sea?"
According to Hawida Araf, another activist, some four warships surrounded the aid boat and threatened to "use all means necessary to prevent us from reaching Gaza."
The IDF denied threatening to open fire on the vessel, and said the boat approached a coastal area that was declared a closed military zone. An Israeli gunship contacted the aid boat's captain and informed him that the passengers would not be allowed into Gaza, army officials said, adding that among the passengers were also journalists.
On Wednesday the IDF prevented an Iranian aid boat from reaching Gaza's shores after it attempted to breach Israel's naval blockade for the second time.