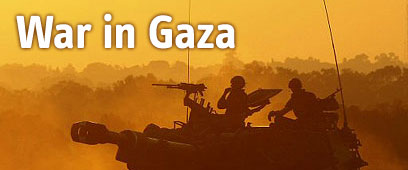 Destruction in Gaza
Photo: AP
A British lawmaker declared Thursday that Israel was taking advantage of the guilt many non-Jews feel over the Holocaust to ruthlessly press ahead with its offensive in Gaza.

Gerald Kaufman, a governing Labour Party legislator, sharply criticized Israel in a House of Commons debate on Gaza, arguing that the Jewish state has exploited guilt that much of the world feels for having ignored the slaughter of millions of Jews during World War II.

"The present Israeli government ruthlessly and cynically exploits the continuing guilt from Gentiles over the slaughter of Jews in the Holocaust as justification for their murder of Palestinians," he said.

The offensive started in response to Hamas rocket attacks on Israeli cities. Medical officials in Gaza say about 1,100 Palestinians have been killed since the offensive started.

Kaufman, a frequent critic of Israel who was raised as an Orthodox Jew, commented on the claim that large numbers of the Palestinian victims were militants.

"I suppose the Jews fighting for their lives in the Warsaw ghetto could have been dismissed as militants," he said.

Kaufman urged the British government to impose an arms embargo on Israel.

"My grandmother was ill in bed when the Nazis came to her home town. ... A German soldier shot her dead in her bed," he said. "My grandmother did not die to provide cover for Israeli soldiers murdering Palestinian grandmothers in Gaza."