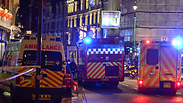 Scene of collapsed theater, London
Photo: AP
Hunks of plaster and dust rained down on a packed audience when the ceiling of a London theater partially collapsed Thursday night. More than 75 people were injured – seven seriously, authorities said.

The collapse at the Apollo Theatre took place around 8:15 pm during a performance of "The Curious Incident of the Dog in the Night-Time" at the height of the Christmas holiday season. Plaster and masonry from a section of the ceiling tumbled down, bringing parts of the theater's balconies down with it onto the audience, police said.

Related stories:

More than 700 people were in the theater at the time, according to the London Fire Brigade.

Briefing at scene of collapse (Video: Reuters) (צילם: רויטרס)

Officials said most of the injured were "walking wounded" with upper-body injuries, and that all are conscious and breathing.

Police and fire officials said it was too soon to say what had caused the partial collapse of the ceiling, but that a full investigation is being carried out.

Scene of collapse, London (Photo: Getty Images)



(Photo: EPA)



(Photo: AP)

Dee Stephenson said she was seated near the stage and heard the main actor shout "watch out!"

"Then you could feel the debris literally coming down on you and then I got hit on the back by a large piece," she told The Associated Press. "It was a complete dust curtain. You couldn't see."

Scott Daniels, an American tourist who lives in the Dallas area, said he managed to buy a ticket to the acclaimed production just before show time.

About 40 or 45 minutes into the show, he said, he started hearing noises – and screaming.

"I thought, maybe this is part of the play," he told The Associated Press. "All of a sudden, plaster starts raining down, huge hunks of plaster ... The lights went out and everything filled with dust – everybody was coughing and choking."

He said he made it out with "a couple scrapes," though he saw others with more serious lacerations.

Dust-covered theatergoers, many with bandaged heads, were treated by dozens of emergency workers in the street outside the Apollo and at a nearby theater.

(Photo: AP)



(Photo: AP)



(Photo: AFP)

City buses were commandeered to usher some of the wounded to hospitals.

Injuries ranged from head wounds to cuts and scrapes to breathing problems.

Initially, London Ambulance Service said more than 80 people had been injured. But noting that the initial situation was confusing, it later adjusted that number to say it had treated 76 patients, 58 of whom were taken to hospitals.

Of those, 51 had suffered minor injuries and seven had suffered "more serious injuries." There were no fatalities and none of the injuries were believed to be life-threatening, officials added.

Chief Superintendent Paul Rickett said that "so far, we know that a number of items of masonry have fallen down from the ceiling.

"There is no suggestion at this stage that this was as a result of a criminal act, however, at this stage we are keeping an open mind," he added.

Shaftesbury Avenue, normally one of London's busiest streets and teeming with pedestrians, was completely shut down by emergency workers.

The Apollo Theatre was built in 1901 and has 775 seats.

The show, which is aimed at young people as well as adults, is about a boy with Asperger's who sets out to solve a crime.

Prime Minister David Cameron praised the city's emergency services – who were on the scene within three minutes – for their "fast work" in helping the injured.
Receive Ynetnews updates directly to your desktop