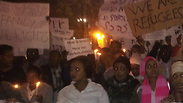 Protest for refugee rights
Photo: Itay Blumenthal
Thousands of protesters marched in Tel Aviv, crying out against the detention without trial of African refugees in the Saharonim and Holot detention facilities. The protesters, African migrants and Israeli citizens, marched from Levinsky Park in South Tel Aviv to Rabin square in the city's center.

One of the protestors, Ibrahim from Eritrea, said: "I cannot go back to Eritrea because I will get killed. There is a severe political problem there. If I could go back home, I'd have gone back a long time ago.

Ibrahim added that "the immigration police always arrest me, not allowing me to live like a human being."

Related stories:

Yifat Solel, one of the protest's organizers, noted: "We are protesting against the Israeli government's disregard of both the international law, and of basic moral values."

Tel Aviv protest against refugees' detention (Video: Itay Blumenthal) (צילום: איתי בלומנטל)

She added that "The government does not accept asylum seekers' submission of applications nor does it recognize them as refugees. We are protesting the manhunt that has been taking place in the past few days, which aims to instill fear and incite hatred. Now is the time to create solutions both for refugees and for residents of south Tel Aviv who have been abandoned for years."

Muhammad from Sudan added: "In our country, many people are murdered all the time and we can't return. We didn't come here to work... we are trying to survive and the Israeli government will not let us do that. Many of my friends were arrested and I'm scared that I will also be arrested when my visa expires."

The Holot detention facility, opened earlier in December, took in 480 Sudanese and Eritrean asylum seekers previously held at the Saharonim prison.

The Holot center was set up by the government as an alternative following a High Court ruling that determined that no asylum seekers and infiltrators are to be kept in a closed facility for more than three years.

Some two weeks ago, 150 African migrants abandoned the detention center to try to march to Jerusalem in protest of the Israeli authorities' failure to look into their requests for political asylum.

The protesters arrived in Jerusalem two days later, holding signs reading, "We're in danger, not dangerous," and were received with a round of applause from some 100 additional protestors who arrived to support them.
Receive Ynetnews updates directly to your desktop